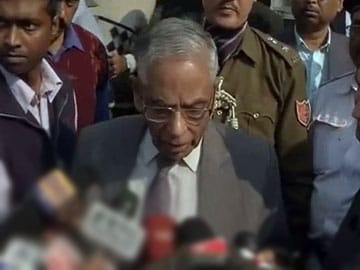 New Delhi / Kolkata:
MK Narayanan
, the Governor of West Bengal, has been questioned today by the Central Bureau of Investigation or the CBI in connection with an alleged swindle centred on the sale of 12 helicopters to India by
AgustaWestland
, an Anglo-Italian defence manufacturer .
The 3600-crore deal was signed in 2010. It was cancelled in January this year by India over allegations that kickbacks were paid by AgustaWestland and its parent company, Italian defence giant Finnmeccanica. (
VVIP chopper scam: India cancels deal with AgustaWestland
)
Mr Narayanan, who was questioned today as a witness, was the National Security Advisor in 2005 and attended meetings where technical specifications were amended for the 12 helicopters that the government wanted to buy for the use of the Prime Minister and President among others. The changes ensured that AgustaWestland qualified for the contract.
Mr Narayanan, 80, is on a list of governors who the BJP wants to replace because they were appointed by the previous government headed by Dr Manmohan Singh.
His interrogation today could give the BJP new leverage in pushing for his exit, along with that of Goa Governor BV Wanchoo, who the CBI plans to question next. Mr Wanchoo was head of the Special Protection Group or SPG which handles the protection of VVIPs and was involved in the selection of the helicopters. (
Also Read: Government Speed-dials UPA Appointees Seeking Resignations
)
The questioning of the Governors comes after a major legal battle over whether they are entitled to constitutional immunity from interrogation.
In March last year, the CBI registered a criminal case under India's anti-corruption laws and named
Finmeccanica
and AgustaWestland as targets of its probe. The CBI has said that four firms and 12 individuals, including former Air Force Chief SP Tyagi, are being investigated. The retired officer has denied any wrongdoing.(
Also Read: Middleman Touched Former Air Chief's Feet, says Italian Report
)
Finmeccanica and AgustaWestland have denied paying bribes but Italian police have arrested the head of Finmeccanica, Giuseppe Orsi, in connection with the case. (
Also Read: How Bribes May Have Been Routed to India
)