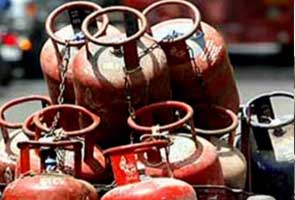 New Delhi:
Taking a politically prickly decision, just weeks ahead of two crucial state elections, the government today hiked the cost of non-subsidised cooking gas cylinders by Rs 26.50. This brings the cost of a non-subsidised cylinder to Rs 922 for a household in Delhi. The same cylinder at a subsidised rate is Rs. 410.42 in Delhi.
Himachal Pradesh is set to go to polls on Sunday while Gujarat will hold elections in December. The hike also comes ahead of Diwali, the most important festival in most parts of the country.
The government, in the face of furious protests by the opposition, allies and the pullout of Trinamool Congress, had in September limited the number of subsidised cylinder to six per year for each household. The cap was announced as part of the big reforms push and to bite the subsidy bullet.
Congress governments in states then announced an additional three cylinders to below-poverty-line households.
After today's hike, a non-subsidised, 14.2 kg cylinder in Mumbai will Rs. 906.50 in Mumbai, Rs. 915.00 in Chennai and Rs. 913 in Kolkata. A similar cylinder for commercial use will cost Rs 1,105.50.
Prices have been revised in keeping with firming international rates. State-owned oil firms revise rates of non-subsidised LPG on the 1st of every month, as they do for petrol and aviation turbine fuel, or jet fuel, based on the average imported cost and rupee-US dollar rate in the previous month.
Trinamool chief Mamata Bannerji, who had withdrawn her support to the UPA government over the capping of subsidised LPG cylinders among other things, said on Facebook today: "The present UPA government is really becoming irresponsible and intolerable. Even being a minority government, they have been taking all major policy decisions affecting the survival of common people." She is also trying to rally political support to protest the latest hike in prices.
Other allies within the government, like the DMK and even Sharad Pawar's Nationalist Congress Party, and those that give external support like Mulayam Singh Yadav and Mayawati, have expressed unhappiness at the government's LPG move.