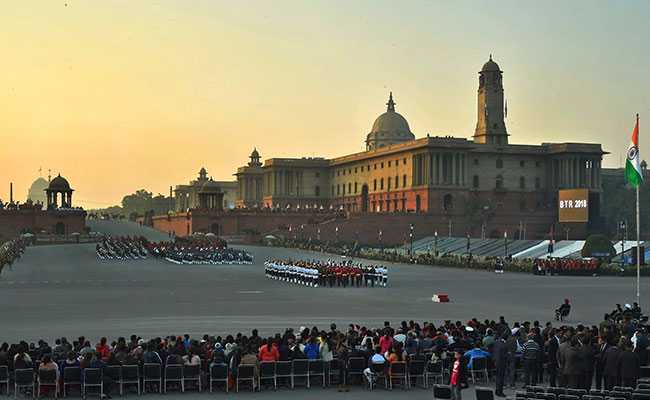 New Delhi:
Beating Retreat ceremony, organised at the Vijay Chowk on January 29 every year, marks the culmination of the four-day-long Republic Day celebrations.
The ceremony traces its origins to the early 1950s when Major Roberts of the Indian Army developed the unique ceremony of display by the massed bands.
All You Need to Know about Beating Retreat Ceremony in Delhi
Beating Retreat Ceremony is held on January 29 every year.
It marks the end of four-day Republic Day celebrations.
It takes place at Vijay Chowk every year.
''Beating Retreat'' marks a centuries-old military tradition, when the troops ceased fighting, sheathed their arms and withdrew from the battlefield and returned to the camps at sunset at the sounding of the Retreat.
The ceremony begins with the arrival of the President, Ram Nath Kovind guarded by his well decorated bodyguards.
The ceremony witnesses the spectacular performances by the bands of the Indian Armed Forces which includes tunes like "Abide with me", "Sare Jahan se Achha", "Kadam Kadam Badhaye Jaa" etc including various other tunes wrapped with the patriotic fervour.
The Beating Retreat ceremony this year will also follow the age old tradition where the bands of the Indian Armed Forces will play various hymns in front of the President of India and other dignitaries.
Defence forces who come to the capital as a part of Republic Day celebrations are sent back to their barracks by the President, which is what Beating Retreat Ceremony is all about.
After the event, Prime Minister Narendra Modi walks around the Vijay Chowk and greets the crowd.