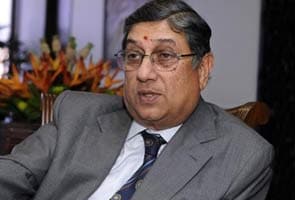 New Delhi:
Under increasing pressure to resign,
N Srinivasan
, the powerful head of the Board of Control for Cricket in India, has called an emergency meeting tomorrow in Chennai to confront the crisis that has engulfed Indian cricket with allegations of spot-fixing and betting in this year's IPL tournament, which ended six days ago.
Sources say that Mr Srinivasan, whose son-in-law has been arrested, has indicated that he will quit as the president of India's richest sports body if board members have lost faith in him.
Yesterday, two senior BCCI officials - secretary Sanjay Jagdale and treasurer Ajay Shirke - resigned, upping the ante. Mr Srinivasan has repeatedly said since the scandal erupted that he enjoys the support of the majority of the BCCI, and that he does not see the need to step down. (
Read
)
But yesterday, Mumbai police sources leaked information that makes it significantly tougher for Mr Srinivasan to hold onto his post. They said that his son-in-law,
Gurunath Meiyappan
, has said that in April, he was warned by the International Cricket Council that his alleged association with bookies had been noted.
Mr Meiyappan was the Team Principal of the Chennai Super Kings, which made him a crucial member of the franchise's management. He was arrested on May 24 on charges of gambling, cheating, and conspiracy.
Mr Srinivasan has said that if his son-in-law was placing bets, he was not aware of this.
As BCCI chief, he had refused till last evening to summon an emergency meeting of the working committee. After calling a session for June 8, he moved the meeting forward to tomorrow after the BCCI's five vice-presidents issued him an ultimatum. "Either you go or we go," they allegedly said, according to sources. (
Read: Full coverage
)
The vice-presidents will be among the 16 members who will attend tomorrow's meeting.
The working committee does not have voting rights to remove Mr Srinivasan. For that to happen, a Special General Meeting of the full board will have to be convened, and three-fourths of the entire board of 30 will have to vote against him.
But that may be unnecessary - with the high-decibel campaign for his removal now peaking, the chief may have no option but to resign.