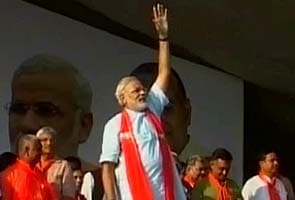 Gandhinagar:
As he eyes a hat-trick in the state, Gujarat Chief Minister Narendra Modi is leaving no stone unturned. So, it's an unprecedented publicity blitzkrieg that the media-savvy chief minister has unleashed in the run-up to the polls in the state next month.
From the traditional
rath
to 3D technology, Mr Modi is going all out to reach the voters.
But this intense campaign was preceded by a strategically-planned image-makeover exercise in the form of his Sadbhvana (amity) fast last year. Eager to shed the 'communal' tag that has haunted him since the riots ravaged the state in 2002, Mr Modi reached out to a fair sprinkling of Muslims at the three-day fast and spoke of inclusive plans. The Congress' response in a counter-fast didn't quite match up as the chief minister hogged the limelight and pulled in the crowds.
He has upped the ante this year. First, it was a public interaction on a popular social networking site that was moderated by popular Bollywood star Ajay Devgn. Next, came the NaMo channel, christened after the Chief Minister's initials, that ensured that Narendra Modi ruled the airwaves in the state. More recently, his election campaign using 3D holographic technology and satellite link-ups that was telecast in four places drew much attention and controversy. The Congress said it would move the Election Commission, seeking a probe on the source of funding of what it called an "extravaganza".
The party has also not been able to match up to Mr Modi's hi-tech campaign, and when it did try to, it ended up with a blooper. An advertisement by the party highlighting the high rate of malnutrition in Gujarat soon sparked a controversy with the ruling BJP alleging that the picture of the child in the ad was from a Sri Lankan refugee camp that was taken by a UN photographer and was "lifted" from a website. The advertisement soon went viral on the Internet. An embarrassed Congress later played down the allegation, saying the BJP was trying to deflect the main issue of malnutrition.
The photograph is symbolic and rather than focussing on the picture, the BJP should counter the figures given in the advertisement," said Siddharth Patel, in-charge of Gujarat state Congress' poll campaign.
"The Congress campaign is not based on facts and figures...it has been based on absolutely fictitious facts...even the visuals they used are either borrowed or stolen," Balbir Punj, BJP national spokesperson, said.
As campaigning gets intense in the state, a self-goal is clearly not what Congress would have wanted at this stage. May be, it's time for the party to re-look at its strategy - the Congress's punchline in TV commercials could help - '
disha badlo, dasha badlo
(change direction, change condition)'.