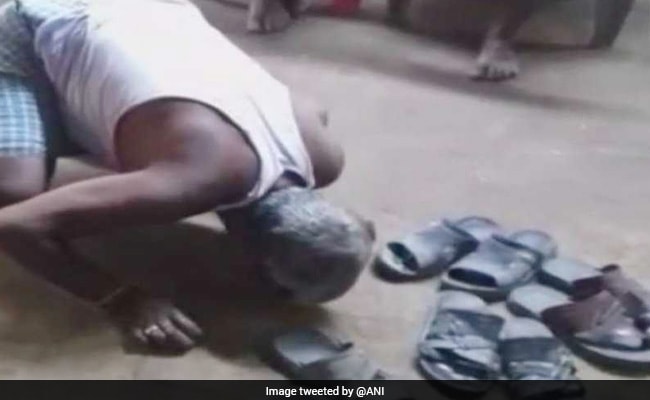 Highlights
Barber allegedly tried to enter house without knocking the door
The 54-year-old's 'punishment' was decided by the village panchayat
Beaten up with shoes by women in public after being forced to lick saliva
Patna:
A barber was forced to lick his own spit in Bihar's Nalanda district as punishment for allegedly trying to enter the house of the village sarpanch without permission. A case was registered against those involved on Friday after a video on the incident went viral on social media.
The sordid incident took place on Thursday in Azadpur village in Nalanda district's Noorsarai, nearly 70 kilometers from the state capital.
The 54-year-old man named Mahesh Thakur had tried to enter the house allegedly without knocking on its door on Wednesday evening.
A panchayat sabha was called in the village the next day by panchayat chief Dayanand Manjhi which decided on the punishment in which the man was forced to spit and then lick it for his alleged misdeed.
Mr Thakur's misery did not end there as he was then beaten by women with their slippers in full public view.
Nalanda, which is about 70 km from capital Patna, is the home district of Chief Minister Nitish Kumar.
After the video on the incident went viral, Nalanda district magistrate Thiyagarajan S M and superintendent of police Sudhir Kumar Porika today ordered registration of FIR against eight people.
The accused included Mr Manjhi and Dharmendra Yadav, who is the kin of the person whose house Mr Thakur tried to enter allegedly without permission. The FIR was registered on the basis of the statement of the victim.
No arrests have been made so far as the accused are absconding, Mr Porika told reporters.
Police officials said that conflicting information emerged after talking to villagers about the incident. While some said that Mr Thakur tried to enter into the house at a time when only women family members were present, others said that he had gone to seek 'khaini' (tobacco) from the house owner not knowing that he was not at home.
Noorsarai Office in-charge has been entrusted with the probe into the incident and to catch the accused, Mr Porika said.