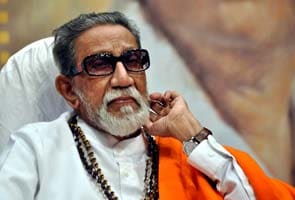 86-year-old Shiv Sena chief Bal Thackeray has been put onlife-support and is incritical conditionat his home in Mumbai.

At 2 am, his son Uddhav, emerged to tell hundreds ofparty workers, "Earlier too Balasaheb was in such a crisis. I have not lost hope. You too must not lose hope. All efforts are on. Please pray."

Earlier on Wednesday night, as the news spread of theirleader's health, Sena workers gathered outside his residence 'Matoshree' insuburban Bandra, where security has been significantly increased.


Mr Thackeray's nephew, Raj, who was estranged from himtill recently, was at 'Matoshree.' In 2006, Raj formed his own party, theMaharashtra Navnirman Sena or MNS.
Actor Amitabh Bachchan and his son Abhishek were among MrThackeray's late-night visitors. Mr Bachchan's
kurta
was torn according to somereports as he tried to make his way into the house through the huge crowd.

Mr Bachchan later tweeted, "Yes both Abhishek and me were injured with cuts, but are fine and back home ... the doctors at 'Matoshree' attended on us !"


Actor Sanjay Dutt and his wife Manyata alsomet Mr Thackeray's family late on Wednesday night.
A team of doctors stationed inside the house with nursingstaff has been taking care of the Sena patriarch, who has been having breathingproblems recently.
Last month, he could not attend his party's annualDussehra rally in Mumbai, but addressed it through a video recorded message.
(With inputs from agencies)