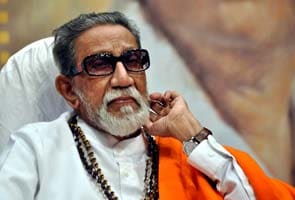 Mumbai:
86-year-old Shiv Sena chief Bal Thackeray has improved over last night and is not on life support, said party spokesperson Sanjay Raut to NDTV this morning.
Mr Raut said the party is appealing through the media to Sena workers to not gather at Mr Thackeray's home, Matoshree, in suburban Bandra, where heavy security is in place to prevent any violence or protests by the party.
Mr Thackeray's son, Uddhav, emerged late last night to address nearly 2000 workers. He asked Shiv Sainiks to stay calm, and to pray for Mr Thackeray's recovery. "I have not lost hope. You too must not lose hope. All efforts are on. Please pray." He also said, "It is a request that you maintain peace and calm. I do not want any complaints of violence to reach me."
Across Mumbai, shops are closed; railway stations are unusually quiet; and 48,000 policemen have been asked to patrol the city in shifts.
Today is a holiday, on account of the festival of Bhai Dooj; but Mr Thackeray's health, and the possibility of a backlash by his party should his condition deteriorate has the city on edge.
President Pranab Mukherjee, who was to begin a two-day visit to Mumbai today, has cancelled his trip. Sources said this was on account of Mr Thackeray's uncertain health condition.
A team of doctors from Mumbai's Lilavati hospital, with nursing staff, is stationed at Matoshree and has been constantly monitoring the Sena chief's health. Mr Thackeray has had trouble breathing over the last few days.
A stream of A-listers have been visiting Mr Thackeray's family. The politician's nephew, Raj Thackeray, estranged till recently from Bala Saheb and Uddhav, spent much of the night at Matoshree. BJP president Nitin Gadkari is expected later today.
Actor Amitabh Bachchan and his son Abhishek were among those who visited late last night. Mr Bachchan's kurta was torn as he tried to make his way into the house through the huge crowd. He later tweeted, "Yes both Abhishek and me were injured with cuts, but are fine and back home ... the doctors at 'Matoshree' attended on us !"