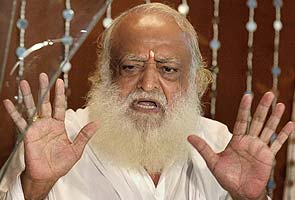 Indore:
For nearly eight hours this morning, two policemen from Rajasthan waited to meet spiritual guru Asaram Bapu at his ashram in Indore, one of many around the country. Repeatedly, they were told that the 72-year-old was meditating and could not see them.
The policemen were finally introduced to him at about 2 pm, when they handed over summons for his interrogation in Jodhpur where he is accused of sexually assaulting a 16-year-old at another ashram run by his trust. In her statement, she said he threatened to cause extensive harm to her family and her if she reported the crime to anyone.
Asaram Bapu has till Friday to meet the police in Rajasthan. He has denied the charges and has described the teen complainant as "blameless and pure." He added, "Her parents are my disciples, that makes her my grand-daughter."
In December, Asaram Bapu outraged the country when he suggested that a young student who had been gang-raped on a moving bus in Delhi should have
referred to her attackers as her brothers;
this would have persuaded them to release her, he said.
He has also been accused of land-grabbing in states like Madhya Pradesh.