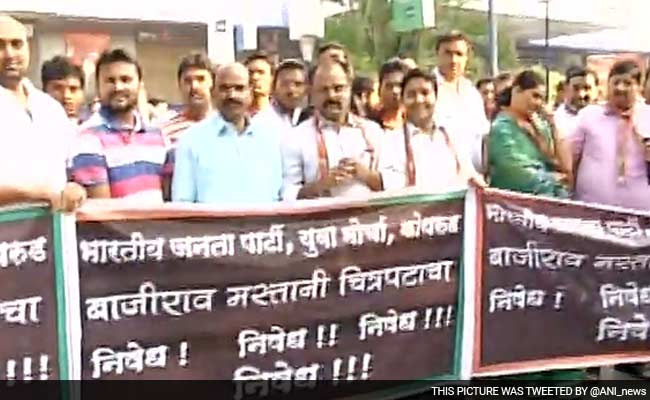 Mumbai:
All shows of the big ticket film
Bajirao Mastani
were cancelled at a film theatre in Pune this morning after protests by the BJP's youth wing.
At least 200 workers protested at a multiplex, City Pride, against the screening of the new Sanjay Leela Bhansali costume drama starring Ranveer Singh, Deepika Padukone and Priyanka Chopra, which opened across India on Friday.
The film based on the story of Maratha warrior Bajirao Peshwa and his second wife Mastani, has faced protests over alleged distortion of history.
"The filmmakers have completely distorted the historical facts of the Peshwa era of the early 1700s and has actually portrayed him in an insulting manner. The people of Maharashtra virtually worship the Peshwas so we cannot tolerate what is being depicted in this film," said Jayant Bhave, who led the protest, was quoted by news agency IANS as saying.
"He never had the time to fiddle with his hair and dance in public as shown in the film... Similarly, the depiction of his wife Kashibai portrayed by Priyanka Chopra is also in poor taste as the royalty never behaved in such fashion those days," Mr Bhave said.
The Bombay High Court has refused to stop the film's release while hearing a
petition which alleged that the film distorts facts and history.
Descendants of the Peshwa and Chhatrasal dynasty have held protests against promotional videos and songs of the movie, alleging that the characters have been portrayed in a manner that is not accurate and hurt sentiment.