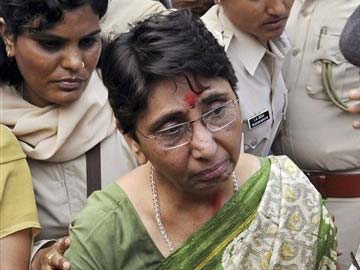 Ahmedabad:
Former Gujarat minister Maya Kodnani, who was sentenced to 28 years in jail for murder during the Gujarat riots, has been granted bail for medical reasons.
She will be allowed to leave a prison in Ahmedabad by tomorrow for three months.
Ms Kodnani, 58, a state legislator from the BJP, was convicted in August 2012 for the Naroda Patiya massacre, among the bloodiest episodes of the three-day riots in which over 1,000 people were killed, most of them Muslims.
Ms Kodnani was appointed Gujarat's minister for women and child development in 2007, and has been the highest-profile figure to be convicted in connection with the riots. She resigned after she was arrested in March 2009.
Witnesses told investigators that Ms Kodnani, a gynaecologist, played a leading role in the massacre of 95 people - 30 men, 32 women and 33 children - in Naroda Patiya.
Mr Modi's government has tried to distance itself from the Kodnani case, saying she was not a minister in 2002 when the communal riots seared the state.