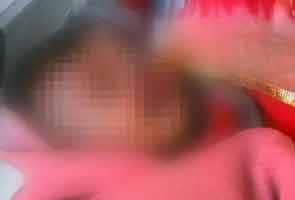 Jaipur:
Dressed in a red
lehenga-odhna
(the traditional garb for women in Rajasthan), a young mother sits outside a government hospital in Jaipur.
The last time she visited here six days ago, she was turned away by the hospital which said that because it was a weekend, it could not operate on her young daughter.
The gross insensitivity is especially offensive because the patient who needed help is five months old and is missing parts of her lips and nose, bitten off by a drunk and abusive father. The hospital later said that it could not treat the baby straight away because plastic surgery is not an emergency operation.
The woman travelled a distance of 400 km in an ambulance with her baby because the hospital in Bikaner near her village does not have a plastic surgeon. After she returned home, the Rajasthan Child Rights Commission intervened, landed her an appointment with the plastic surgeon at the SMS Hospital in Jaipur, and provided the woman with a 24-hour nurse.
The five-month-old battered baby was examined by experts today, and they will decide soon if she can undergo plastic surgery within the next 72 hours. Doctors say two operations are needed to reconstruct the baby's face.
As the woman waits for news on her baby, her three-year-old daughter plays nearby. She too was attacked by her father, but luckily, her injuries were minor. The man has been arrested.
Her vengeful in-laws have thrown her out of the house she shared with them. "When I called the police, his mother said, 'you had my son arrested, why should we keep you here'?"
Standing by her is her 70-year-old father who has escorted her to Jaipur.
The costs of her five-month-old daughter's plastic surgery will be covered by the government. But suddenly, the woman is without a home and an income and has two young children to feed.
If you would like to help this family, please mail cheques or demand drafts with the following details:
The Hope Trust
Bank Name: Syndicate Bank
Bank Account No: 90492010067832
Branch Address: No 2, Kaushalya Park, Hauz Khas, New Delhi - 110016
Phone Number: 011-26962272
Cheques can also be sent to the following address:
The Hope Trust
207, Okhla Industrial Estate
Phase III, New Delhi - 110020
Phone Number: 011-46176300
Additional details for online transactions:
IFSC Code: SYNB0009049
MICR Code: 110025019
Branch Code: 009049
Note: This information has been provided/published on a good faith basis, without any commercial motive. NDTV does not vouch for the authenticity of the claims made by the intending donee, nor can we guarantee that the donations made by a donor will be used for the purpose as stated by the intending donee. You are requested to independently verify the contact information and other details before making a donation. NDTV and/or its employees will not be responsible for the same.