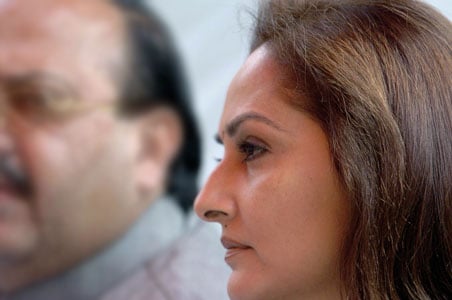 New Delhi:
Accusing Samajwadi Party (SP) leader Azam Khan of circulating material to sully her image, party candidate from Rampur Jaya Prada on Monday said she would complain to the Election Commission about it.
"He (Azam Khan) is like my elder brother. But he is sullying my image by involving in cheap campaigning against me. His action is an insult to women," the actress-turned politician told a television channel.
Jaya Prada, who is seeking re-election from Rampur constituency in Uttar Pradesh, alleged, "They (Khan and supporters) have released my CDs and posters just to scandalise my image".
"I am yet to see the content of the CDs but the posters released by them are very bad in taste, damaging my reputation. I am approaching the Election Commission to check this sort of campaigning," she said.
"This is not good. They want to demoralise woman's pride by engaging in cheap campaigning," she said adding that she has already approached the police on the issue.
When asked if Khan was indirectly hitting at Kalyan Singh by doing so, she said, "If that was the case then why he (Khan) is supporting Congress which was equally responsible for Babri Masjid demolition".
"It is ethically and morally wrong on the part of the senior leader Khan for supporting the candidature of my opponent Noor Bano," she added.