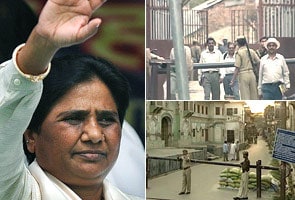 Lucknow:
The Ayodhya verdict will be announced today and rarely has the country sounded so united on anything as on the need to maintain full peace and order irrespective of the verdict.
That message reiterated on Wednesday by Sonia Gandhi and P Chidambaram, but Uttar Pradesh Chief Minister Mayawati has taken on the Centre saying the Prime Minister has ignored UP's demand for adequate Central forces.
Mayawati said she wrote to the PM twice for 642 companies of Central forces but got only 52. She has also refuted Chidambaram's statement of 190,000 policemen on the ground in UP.
The Uttar Pradesh Chief Minister said this is the strength of the UP police, not any additional force by Centre.
Stressing that the demand for additional forces was justified, Mayawati said that to conduct free and fair elections in 2007, Centre had allocated 700 companies of paramilitary forces.
"This time also we needed adequate number of forces to deal with the situation. And if something happes for lack of force, Centre will be responsible", Mayawati said.
"To tackle possible communal tension, the government demanded 458 companies of central forces on August 6, besides another 143 companies were demanded for the security of
disputed site at Ayodhya on September 1," the UP Chief Minister said.
Mayawati said that Director General of Police (DGP) personally met Union Home secretary on August 9 to press for additional forces. The state government also made a representation to Governor BL Joshi on Aug 12 urging him to request the Centre for more forces.
Besides, Prime Minister Manmohan Singh was also requested through separate letters to him on September 1 and September 13 respectively to provide the forces to maintain law and order post-Ayodhya title suit judgement.
(with PTI Inputs)