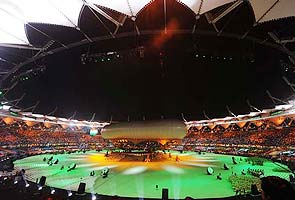 Sydney:
Controversy-marred Commonwealth Games held in New Delhi last year finds itself in yet another embarrassing situation with an Australian company deciding to sue the event's organisers over unpaid bills.
An Australian company which was behind the CWG opening and closing ceremonies has still not received the bills from the Organising Committee (OC) and hence is all set to take legal action against it, reported ABC.net.au website.
Ric Birch, who was the mastermind behind the successful opening and closing ceremonies of the mega-event which took place from October 3 to 14 last year, told the website that his employers have still not paid their bill.
(Read: Ric Birch's open letter slamming CWG organisers)
"I supplied the services of 12 people over the course of the year leading up to the Games, which included choreographers, producers and myself as executive producer," he was quoted as saying.
"They're all production people who were intimately involved in the creation, production and direction of the opening and closing ceremonies."
He also added that when he tried to contact the organisers of the Games in relation to the unpaid bills, the calls were first ignored.
"Then finally in December I got a very short note from Lalit Bhanot who is Secretary General of the Organising Committee," he said.
"He sent a note saying that now they wanted to claim a performance guarantee because Mr Birch's performance was not up to the mark. So I am mortified as you can imagine."
Birch is now planning to sue the OC so that they could recover their hundreds of thousands of dollars in outstanding fees.
He has also given his lawyers the names of other businesses, which may also want to take legal action against the Committee.
"There were up to 15 other companies involved with the opening ceremony and many more companies involved with the Commonwealth Games overall," he said.