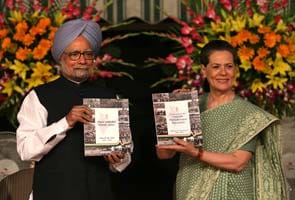 New Delhi:
Through the day today, his government's fourth birthday, Dr Manmohan Singh's performance as Prime Minster was under intense scrutiny. The BJP questioned his leadership and a minister suggested he had had his run as PM.
In the evening, the 80-year-old Dr Singh played host at a dinner party for UPA allies at his 7 Race Course Road residence and told NDTV, "
Sitaron ke aage jahan aur bhi hai
(there are galaxies beyond the stars to conquer)."
Just minutes before, Congress president Sonia Gandhi had lashed out at the opposition in defence of Dr Singh. "The Prime Minister is carrying out his responsibilities with great dignity in the face of unrelenting hostility and abuse from the Opposition. We respect him, and we all stand by him," she said in her speech. (
Read full speech
)
To NDTV, Mrs Gandhi said, "We have always backed the PM and respected him," and added that stories of a rift between the party and the government were "made up by the media".
She said she was "very satisfied" with the performance of the government her party leads. "We have achieved a lot. Some people who never go out of Delhi like to criticise, but the country knows what we have done," she said.
Mrs Gandhi's words seemed to be directed not only at a belligerent BJP, but also at sections in the Congress that have been pushing for a change in leadership. Just this morning, Parliamentary Affairs Minister Kamal Nath had said it was time for the party to project Congress Vice-President Rahul Gandhi as its candidate for PM in the next general elections, now months away. Mr Singh, he said, "has served his 10 years."
The BJP has trained its guns at the PM. "Never seen in the past that the stature of PM is so small. He looks at the Congress president for every decision,' the BJP's Sushma Swaraj said today.
(Read)
At the UPA dinner, the Congress' big three - Dr Singh, Mrs Gandhi and Rahul - shared the stage with leaders of allied parties. But the regrets list will cause the Congress some concern.
(UPA-II completes four years: full coverage)
Mulayam Singh Yadav, whose Samajwadi Party extends crucial external support to the UPA government, did not attend. Neither did Mayawati, who heads the BSP, which too gives external support to the government.
Unlike Mr Yadav, however, the BSP sent a representative.
The last one year has been tumultuous for the government, which was rocked by many scandals and allegations of corruption. Today was seen as one of the Congress' last chances to showcase its achievements general elections.
Releasing a "report card for the people", the PM said, "Improved economy and a more inclusive growth are the UPA's key achievements."
(Highlights of PM's speech)