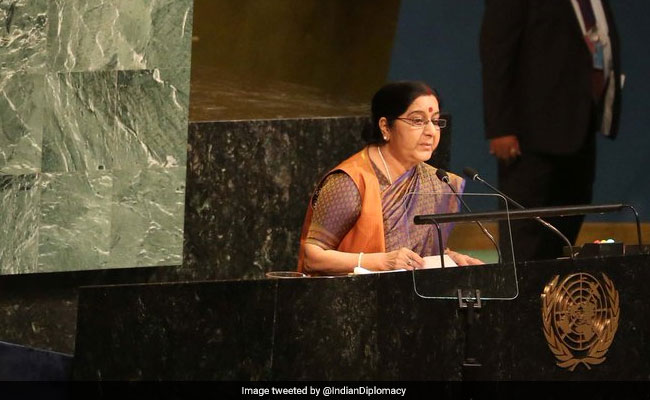 Highlights
China has blocked India's efforts to blacklist Masood Azhar
Syed Akbaruddin had said clock was "ticking" for Masood Azhar
China is a permanent member of the UN Security Council
NEW YORK:
Foreign Minister Sushma Swaraj was unsparing in her attacks
on Pakistan's Prime Minister Shahid Khaqan Abbasi at the
United Nations General Assembly
on Saturday,
mercilessly lampooning PM Abbasi's speech
that had pointed fingers at India. But the Foreign Minister didn't miss the opportunity to take a thinly-veiled dig at China as well, the veto-wielding permanent member of the Security Council that has blocked Indian efforts to blacklist
Jaish-e-Mohammad chief Masood Azhar
.
Ms Swaraj spoke about how
pious resolutions to condemn and fight terrorism at international fora
had become rituals and for some years, the self-interest of some countries had "led them towards duplicity".
Pushing for the comprehensive pact on international terrorism proposed by India in 1996, she lamented that the United Nations had not been able to agree on the definition of terrorism for over 20 years.
"If we cannot agree to define our enemy,
how can we fight together
? If we continue to differentiate between good terrorists and bad terrorists, how can we fight together?" Sushma Swaraj asked, before making an oblique reference to Masood Azhar case.
"If even the United Nations Security Council cannot agree on the listing of terrorists, how can we fight together?" she said.
Since March 2016, China has been the only member
in the 15-nation United Nations organ to put a hold on India's application with all other 14 members of the Council supporting New Delhi's bid to place Masood Azhar on the 1267 sanctions list that would subject him to an assets freeze and travel ban. It has since then repeatedly extended its technical hold on the US, France and the UK-backed proposal.
India had accused the Jaish-E-Mohammed led by Masood Azhar of two deadly terror attacks last year - on an air force base in Pathankot in January, and at an army camp in Uri in September. 26 military personnel were killed in the two strikes.
New Delhi has been critical of Security Council
for being "indecisive" on sanctioning leaders of organisations it itself designates as terrorist entities and blamed the top UN body of being
stuck in a "time warp and politics"
.
Last week, Syed Akbaruddin, India's Ambassador to the United Nations, had, however, indicated that time was running out for the Jaish chief.
The clock, he said, was "ticking" for Masood Azhar"
and India will "pursue him till the ends of justice are met".