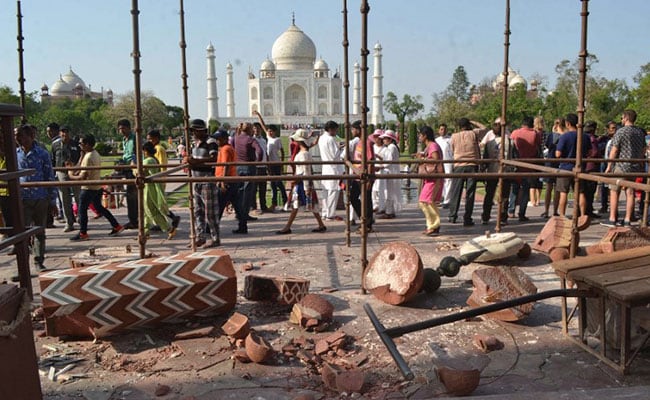 Highlights
Minaret near the entrance at Taj Mahal collapses
12-feet pillar at Taj collapsed in heavy rain last night
Thunderstorm in western Uttar Pradesh on Wednesday night
Agra:
A minaret at the entry gate of the
Taj Mahal
crashed as heavy rain and high winds lashed Agra last night. The 12-feet metal pillar at the entry gate, referred to as
Darwaza-e-Rauza
, collapsed as wind speed during the thunderstorm crossed 100 km per hour. Sources say the pillar fell just past midnight on Thursday and the minaret and dome on it broke into several pieces.
The Archeological Society of India (ASI), which maintains the iconic heritage site, had appealed in the Supreme Court for sorting out the ownership of the Taj Mahal, against the Waqf board's decision to declare the Taj as its property.
The
Supreme Court
on Wednesday has asked the Uttar Pradesh Sunni Waqf Board, to show documents signed by Mughal emperor Shah Jahan, to prove that it owns the Taj Mahal.
"Who in India will believe that it the Taj belongs to the Waqf board," asked the Bench, comprising Justices AM Khanwilkar and DY Chandrachud, and added that such issues must not waste the time of the top court.
The ASI told the top court that Taj Mahal was taken over by the British and since Independence, the society has been maintaining the Taj Mahal.
The Supreme Court on March 23, directed the Uttar Pradesh government to place before it a draft of vision document on protection and preservation of the Taj Mahal and environment in the Taj Trapezium Zone.
The Uttar Pradesh government informed the top court that it was working on the vision document which would help in the protection and preservation of the
17th century mausoleum
. It sought four weeks time from a bench of justices Madan B Lokur, Kurian Joseph and Deepak Gupta for completing the work on the vision document.
In January, the ASI, after a study said the Taj has been losing its sheen and the structure is suffering due to increased pollution levels in Agra. Experts said the abrasive nature of the particulate matter in the air is damaging the surfaces of the Taj.
The ASI, in October 2017, temporarily stopped restoration work at the TaJ Mahal and sought help from engineers at the Indian Institute of Technology (IIT). Some experts are of the opinion that repeated mud packs to clean the white marble may weaken the structure.
(With inputs from ANI and PTI)