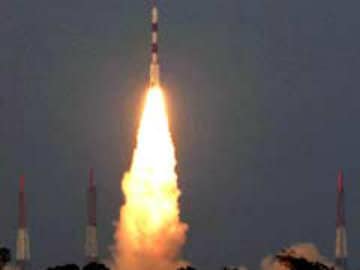 New Delhi:
In a major boost for India's space programme, the Narendra Modi government has earmarked Rs 6,000 crore for ISRO in its maiden budget, which is a whopping 50 per cent jump in the agency's funding over last year.
In 2013-14, although the Department of Space was initially given Rs 5,615 crore, that allocation was later revised to Rs 4,000 crore. A major chunk of the allocation in the new Budget, Rs 3,545.63 crore, is for space technology while Rs 1,412.98 crore has been set aside for the INSAT project.
"Several major space missions are planned for 2014-15, including the experimental flight of India's future heavy-capacity launcher, GSLV Mk-III, one commercial launch of PSLV and two more navigational satellites," Finance Minister Arun Jaitley said today in his budget speech.
While Rs 378.76 crore has been extended for the Indian Space Research Organisation (ISRO)'s GSLV Mk-III project, Rs 60 crore has been earmarked for Chandrayaan I and II, India's lunar mission.
"Our Mars Orbiter spacecraft is in its 300-day-long voyage to Mars along the designated helio-centric trajectory. Mars Orbiter Spacecraft is expected to be orbiting Mars on September 24, 2014," Mr Jaitley said. The Orbiter Mission has been given Rs 65.93 crore in the latest budget. The space department has taken several strides in the last year, launching the country's first inter-planetary project, the Mars Orbiter Mission, and the Geosynchronous Satellite Launch Vehicle (GSLV-D5).
Prime Minister Modi had last month witnessed the launch of five foreign satellites from the Satish Dhawan Space Centre in Sriharikota.
He had said then that the successful launch of the foreign satellites was a "global endorsement" of India's space capabilities developed by "our brilliant scientists".
Noting that India had the potential to be a "large service provider" in this area, PM Modi had said that efforts must be made to construct new infrastructure and upgrade to launching heavier satellites.