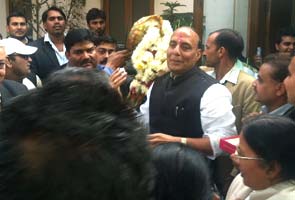 New Delhi:
By 3 pm, a flood of visitors surround the gate at Rajnath Singh's house on Ashoka Road in the heart of the capital. His guards try to temporarily close them as a crowd control measure, but the arrival of more supporters, along with several BJP politicians, soon force them open.
Inside the compound, a group of
dholakwallahs
amp up their drums, adding to the din.
Finally,
Rajnath Singh
, the new President of the BJP, emerges from his single-storey house to meet his supporters.
(Read: Rajnath Singh elected as new BJP President)
Some want to shake his hand, more daring ones try to garland him, some are content to grab a photo on their phone.
Singh, a physics lecturer from Uttar Pradesh, born in a modest farmers family in Uttar Pradesh, has had a dramatic rise, first as the head of the students' wing of the party in UP, then as a minister in the Vajpayee cabinet before taking over as president of the BJP from 2006-2009.
I try and ask the BJP chief what his biggest challenge will be. Before he can answer, a shower of fireworks drowns out the conversation. Not to be left out, the
dhols
beat again.
Several minutes later and after much pleading, the drums are silent, but Singh has now gone back into his room as several reporters head into his house to catch a few minutes with him.
"Today I will only be meeting and speaking to you all off record" he says. His new term is littered with challenges, the first being the BJP government in Karnataka which is lurching towards collapse.
There's another challenge confronting him - which TV reporter to speak to first. The demands for interviews are ceaseless and Singh is known more as a backroom strategist rather than a savvy TV politician.
But he's astute enough to keep everyone guessing, and promises he will talk to everyone tomorrow.