NEW DELHI:
Journalists gathered at the Press Club of India in Delhi on Saturday to talk about the latest attacks on the media, right from Karnataka where two journalists are to be jailed for a year on the state assembly's orders to the beating of a Kashmiri reporter for 'The Caravan' magazine by a crowd in Delhi's Sonia Vihar.
Karnataka lawmakers this week decided that the privileges of its lawmakers had been breached by two-year-old articles published in tabloids that were allegedly defamatory about some of them including Speaker KB Koliwad who is from the Congress.
Speakers at the meeting felt the jail term for defamation was a misuse of the assembly's privileges. The proper recourse for the legislators, if they felt the articles were defamatory, would have been to file a civil defamation case against the journalists.
"Dissent is something that all governments with authoritarian tendencies have always attacked. The difference today is that it has become much worse," said Seema Mustafa, Editor in Chief, The Citizen. She asked the media to realise that "our strength comes from those who we speak of and for, not managements or governments".
"For a person to be arrested," said Siddharth Varadarajan, Founding Editor of The Wire, "for bursting a firecracker after a Pakistan win is a sign of the direction this democracy is going in".
But it isn't just the government or instruments of the State that are targeting journalists.
"It need not be someone technically from the government," said Ravish Kumar, Senior Executive Editor, NDTV.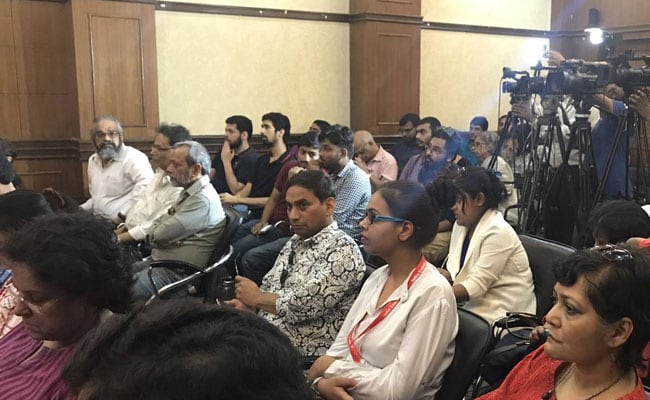 "Even my neighbour can come after me to hit me. It's a culture which is being encouraged," he said, adding that only the section of media that sings paeans to the government is protected.
Basit Malik, a freelance journalist reporting for the monthly magazine, had gone to report on the demolition of a makeshift mosque in Delhi. He was badly beaten by a mob in the neighbourhood after they discovered he was a Muslim.
Ravish Kumar cautioned that the polarisation isn't just against one community. "Its power can turn anyone into a murderer. We are not even safe in our own neighbourhoods," he said.
At the Press Club meeting, the focus also shifted to the news coverage on some television channels that fuel a narrative against particular communities. Journalists spoke out on the need for regulators to do more and act.
Siddharth Varadarajan said there was a major section of media now, night after night, which are inciting polarisation. "An editor who knowingly puts out fabricated info, aimed at polarising society should be held to account," he said.
Murders by mobs, such as the one of 16-year-old Junaid on a train in Haryana's Ballabgarh town near the national capital, were strongly condemned.