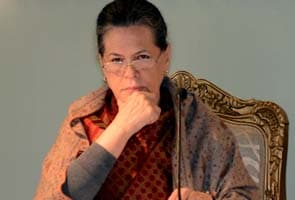 New Delhi:
On the outskirts of Delhi, Congress president Sonia Gandhi firmly called her party to order today as it gears up for the general elections, where it will ask voters for a third consecutive shot at government.
Mrs Gandhi, who is the president of the party, told a summit of 70 carefully-picked delegates that the party and the government need to reconcile their differences, ensure that promises made to voters in the last election are delivered, and that senior party leaders must be able to explain simply and clearly to the public why the economic reforms introduced recently by the Prime Minister are exigently needed.
(Track live updates here)
"Sometimes the party is unhappy with decisions taken by the government. Both views have to be balanced," she said, adding "discussions do happen between the two, but only when really big decisions need to be taken." A coordination committee will be created to improve relations between the two teams.
The government has been accused of policy paralysis and inherent corruption. Mrs Gandhi's son, Rahul, spoke of the need for Congress governments in different state to take decisions quickly. He also stressed the need for the government to feel the upside of the "new transparency revolution" instead of treating it as an affliction.
Like his mother, he backed the politically tricky reforms that have been cheered by investors and denounced by the Opposition and privately, by some of the Congress' allies.
It was the senior-most minister in the Prime Minister's cabinet, AK Antony, who spoke quietly and passionately about the vertiginous potential of the reforms on the image of the Congress as a party dedicated to the
aam aadmi
or common man.
It was the Prime Minister's decision to open up India's vast retail sector to foreign super-chains that reduced his government to a minority, with key member Mamata Banerjee withdrawing her Trinamool Congress from the coalition. But it's the new policy on cooking gas that has the party sweating about the impact on voters. The government has set a quota of six subsidised cooking gas cylinders per year per family. And several ministers and partymen said the issue should be reconsidered.
Mrs Gandhi, who has been urging her party not to sound defensive while being torpedoed by corruption charges by both the BJP and anti-corruption campaigner Arvind Kejriwal, said, "Our detractors want to grab power at any cost, notwithstanding that their greed would weaken democracy and secular values."
Mrs Gandhi and her son, Rahul, surprised the 70 delegates headed to Surajkund for the Congress summit by boarding a bus and driving with them this morning to a hotel which had just a few weeks ago hosted a similar brain-storming session of the opposition BJP.
In the evening, three helicopters were on stand-by, but once again, the Gandhis bussed it home with their party colleagues. For security reasons, the Prime Minister drove separately.