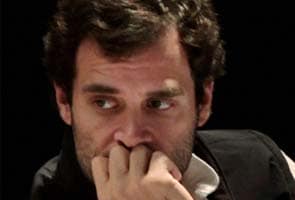 Jaipur:
The Congress' highest decision-making body, its working committee or the CWC, is meeting right now amid anticipation that there could be an announcement soon about Rahul Gandhi formally taking on a bigger role in the party. Congressmen attending a brainstorming session to prepare the battle-plan for general elections 2014 are clear that the party's strategy will be built around his leadership.
In Jaipur, where the party's top leaders have been locked in intense debate over the last two days, there is now much clamour that Mr Gandhi be formally declared the party's candidate for Prime Minister. While that is unlikely yet, say sources, there is much talk that he might finally be made Working President or Secretary General or even Congress Vice President, which will formally place him as the party's number 2, after his mother and party president Sonia Gandhi. He has already been given charge of the party's campaign for 2014.
"The CWC is likely to take a call on the issue," Minister of State for Parliamentary Affairs Rajeev Shukla said on Saturday afternoon. As always, cautious Congressmen add a disclaimer. "But it is for him (Rahul) to take the final decision," said Mr Shukla. Minister of State (independent charge) for Power Jyotiraditya Scindia, said, "He (Rahul) represents the demographic dividend. We want him to lead in 2014 but he has to take the final call."
Lok Sabha member Sanjay Nirupam was less circumspect. "It has almost been announced that the Congress is going to fight the 2014 elections under the leadership of Rahul Gandhi. He is our candidate for the post of prime minister after the 2014 elections," Mr Nirupam said.
Other leaders like M Veerappa Moily and Girija Vyas pointed out that Rahul Gandhi was already leading the party. Yesterday, prominent MPs like Raj Babbar and Avtar Singh Badana had suggested that Mr Gandhi be projected as party's candidate for PM.
While Rahul Gandhi has been named the party's chief strategist for the 2014 polls, his much anticipated larger role is yet to be spelt out. He is as yet only a general secretary in the Congress. His mother Sonia Gandhi leads the Congress party, Prime Minister Manmohan Singh heads the government, but Mr Gandhi's increasing influence in both party and government matters over the months has been unmistakable. The Jaipur session bears a strong Rahul Gandhi stamp - most of all in the massive participation of young Congressmen and women. About 120 of the 350 people invited to help devise strategy at the
Chintan Shivir
are members of organisations like the Youth Congress and the National Students' Union of India (NSUI).
Sonia Gandhi, in her speech yesterday, did not touch upon the leadership issue at all, but she acknowledged the substantial presence of young delegates at the Jaipur session and emphasised an urgent need to address an alienation from the urban middle class, especially the youth, seen most recently when the Congress government was found grossly inadequate in its response to spontaneous protests after the brutal gang-rape and torture of a 23-year-old medical student in a moving bus in Delhi last month. As thousands of students and other people took to the streets demanding justice for the victim and better security for women, there was huge anger at the failure of senior ministers to reach out and respond adequately.
The BJP, which has been watching the Congress' Jaipur session keenly and commenting on it, was dismissive today about the buzz around a new role for Mr Gandhi. "It's a very curious expression - 'Mr Rahul Gandhi must take a bigger role'. I hardly see anyone say, 'Mr Rahul Gandhi must take bigger responsibility'. I would like to ask, is the new concern of the Congress for the youth basically a concern for the young Gandhi?" asked BJP leader Ravi Shankar Prasad, adding, "Sonia ji, Rahul ji, Manmohan ji sorry, there is no vacancy (for Prime Minister) in 2014."
Congressmen at the Jaipur session insist the BJP is, in the words of party spokesman Rashid Alvi, "scared of Rahul Gandhi's leadership." They are also loath to accept that the 2014 contest could be a direct personality clash between Rahul Gandhi and the BJP's Narendra Modi, who many see as the Opposition party's best bet as a candidate for prime minister. "2014 will not be contest between Modi and Rahul. It's always party versus party," senior minister Jairam Ramesh said yesterday.
(With inputs from agencies)