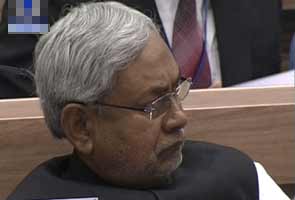 New Delhi:
Unfazed by the Planning Commission disapproving his demand to grant special category status to Bihar, Chief Minister Nitish Kumar today made a strong pitch for it, accusing the Centre's Inter-Ministerial Group (IMG) for not considering the issue with seriousness.
Addressing a meeting of the National Development Council (NDC) chaired by Prime Minister Manmohan Singh, Mr Kumar also demanded that the Centre should provide at least 90 per cent of the scheme expenditures as its share in central government schemes and "fix the wages under Mahatma Gandhi National Rural Employment Guarantee Scheme (MNREGS) at par with the minimum wages fixed by the state."
On the issue special status to the state, he alleged that the ministerial group constituted by the Prime Minister "did not consider the issues spelt out with due seriousness and reached pre-ordained conclusions on parameters of special status".
Mr Kumar also demanded the constitution of an expert group to examine and recommend appropriate policy measures to overcome development disabilities of Bihar.
The Bihar Chief Minister had met the Prime Minister some time back and submitted him a detailed memorandum on why the state government was seeking special category status for Bihar.
He also met Finance Minister P Chidambaram last evening soon after Planning Commission Deputy Chairman Montek Singh Ahluwalia said that Bihar does not meet the existing criteria to be granted the status of special category state.
In his speech at the NDC meeting in Delhi this afternoon, Mr Kumar that the case of Bihar being a landlocked and a least developed state should have prompted IMG to adopt a different approach altogether.
Mr Kumar also demanded a revised Gadgil formula for ensuring higher devolutions for a "backward state like Bihar" as an overriding priority for inclusive growth as envisaged under the 12th Five-Year Plan.
Noting that the country has shown high growth rates of 7.6 and 7.9 per cent in the 10th and 11th Five-Year Plans, the Bihar Chief Minister said, "To sustain the growth momentum at national level, special attention to the states lagging behind in terms of income, infrastructure and investment would be essential".