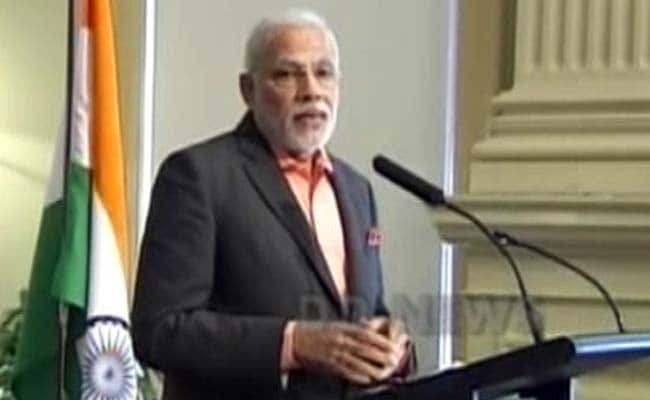 Brisbane:
At a power breakfast in Brisbane with top business leaders from Australia's Queensland and India, Prime Minister Narendra Modi said today that India has made its policies transparent and predictable and has defined procedures clearly for businesses.
"You will begin to find a difference in India... India has made its policies transparent and we have made the procedures clearly defined and smooth," PM Modi said, speaking in English at his last engagement in Brisbane, where he also attended the annual summit of the G20, a group of the world's 20 leading developed and emerging economies.
PM Modi left for Sydney soon after the Breakfast meeting, which was hosted by Campbell Newman, the premier of Queensland. Among Indian business leaders, industrialists Anand Mahindra and Gautam Adani were present at the meet.
PM Modi said that his government is focused on eliminating unnecessary laws and regulations, making processes easier and shorter, ensuring that the government is more transparent.
He also said good governance is the starting point of change and it is as important to business as it is to ordinary citizens.
He talked about his government's new mission 'Make in India' to promote manufacturing in India and also about his plans to build 100 Smart cities, and invited Queensland to participate in plans for those cities.
Mr Modi also praised Queensland on its success in tourism and said, "Indian investors would be willing to partner with you, as more and more Indians are drawn to the incredible beauty and hospitality of your state."
The Prime Minister is expected to interact with about 500 top Australian and Indian CEOs in Melbourne tomorrow.
Before that he made his first public address in Australia during a whirlwind six-hour visit to Sydney, which is packed with engagements. The Sydney visit was crowned by the grand reception planned by the Australian Indian community and was attended by about 16,000 people at the Allphones Arena of the Olympic Park.
Later tonight, Mr Modi will proceed to Canberra and then to Melbourne, concluding his four-city visit to Australia.
PM Modi is the first Indian prime minister to visit Australia in 28 years after Rajiv Gandhi in 1986.