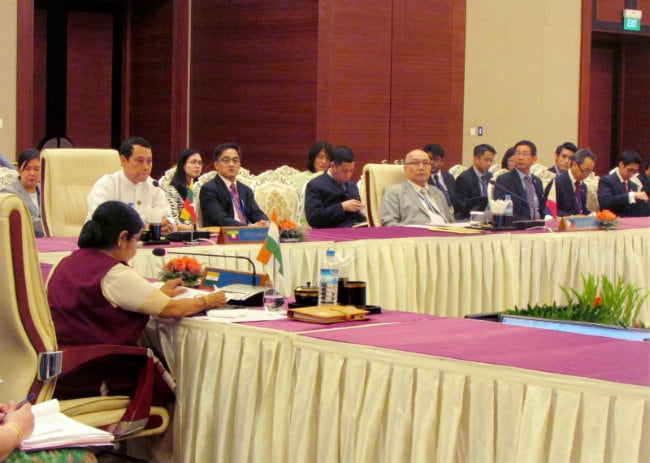 Naypyitaw, Myanmar:
The ASEAN, considered one of the world's fastest growing regions, today resolved to significantly enhance cooperation with India in combating growing challenges of maritime security, terrorism, drug trafficking and cyber crime besides expanding trade ties.
The 10-nation grouping, particularly emphasised on close engagement with India to deal with issues relating to maritime security, freedom of navigation and maritime security in the seas of the region.
The comments by ASEAN (Association of Southeast Asian Nations) came on a day when the dispute relating to China's territorial claims over the South China Sea was dominating the meeting of foreign ministers of the powerful bloc in Naypyitaw, Myanmar.
"We agreed to further promote maritime cooperation to address common challenges on maritime issues," the ASEAN said in a statement.
Addressing the 12th India-ASEAN meeting in Naypyitaw, External Affairs Minister Sushma Swaraj had on Saturday said India supported freedom of navigation and access to resources in the South China Sea in accordance with principles of international law, including the 1982 UN Convention on the Law of the Sea.
State-run ONGC Videsh Limited has operation in number of oil blocks in South China Sea which were offered to it by Vietnam.
China has been objecting to India's oil exploration projects in the disputed waters.
The ASEAN said there should be greater cooperation between the member countries of the grouping and India in combating transnational and non-traditional security challenges and specifically sought better coordination to deal with combating terrorism, illicit drug trafficking, human trafficking and cyber crime.
Seeking better ties with India, the grouping said it was looking forward to signing of the ASEAN-India Free Trade Agreement in services and investment at the forthcoming meeting of Economic and Trade Ministers here later this month.
India and the ASEAN have already implemented a free trade agreement in goods and are set to widen its base and include services and investments.
The India-ASEAN Trade in Goods Agreement was signed in August 2009 and it came into force on January 1, 2010.
The ASEAN noted that its two way trade with India grew by 5.3 per cent in the past years and called for further encouragement and promotion of business to business contact to achieve greater trade and investment.
The grouping also reiterated the need to strengthen ASEAN-India cooperation in agriculture and energy in order to ensure long term food security and energy security, especially with the use of appropriate technologies.
Stressing on the need for better connectivity, ASEAN said the Master Plan for ASEAN Connectivity (MPAC) should be implemented as it will enhance regional integration and better linkages between members of the bloc and India.
The MPAC envisaged construction of a number of highways and developing waterways for greater connectivity.
"We looked forward to the expeditious conclusion of the existing ASEAN India transport initiatives including the ASEAN India Air Transport Agreement and the India Myanmar Thailand Trilateral Highway Project and its extension to Lao PDR and Cambodia, and the development of the new highway also linking Vietnam, which will enhance connectivity between and ?beyond both sides and strengthen trade and investment," it said.
"We recognised that ASEAN and India are moving forward in enhancing cooperation in the field of science and technology by utilising the ASEAN India Science and Technology Development Fund," it added.
"We noted the progress of work under the ASEAN-India Plan of Action to implement the ASEAN India Partnership for Peace, Progress and Shared Prosperity (2010-2015)," it said.
There has been significant progress in ties between India and ASEAN in the last few years in diverse sectors, particularly in trade and commerce.
The trade grew by 4.6 per cent from USD 68.4 billion in 2011 to USD 71.6 billion in 2012.
ASEAN's exports were valued at USD 43.84 billion and imports from India amounted to USD 27.72 billion in 2012.
The target has been set at USD 100 billion by 2015 for ASEAN-India trade.
The key members of ASEAN block include Brunei, Cambodia, Indonesia, Myanmar, Singapore, Thailand, the Philippines and Vietnam.
Outlining a roadmap to provide a fresh momentum in its ties with ASEAN, External Affairs Minister Swaraj yesterday had said India would soon draft a five-year plan of action starting 2016 to take the "trajectories" of common interests with grouping to a new level.
Recognising that regional peace and stability was a precondition for growth and an important factor in ASEAN?s future, the bloc reaffirmed its commitment to enhance efforts in political and security cooperation.