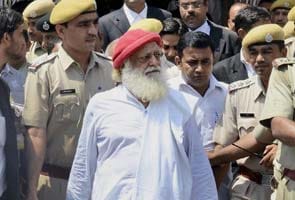 Jodhpur:
A judge in Rajasthan, who is hearing the sexual assault case against spiritual leader Asaram Bapu, has allegedly received a threatening letter.
Security for a sessions judge Manoj Kumar has been tightened after he received threats on a postcard. Police say the judge was told in the message that he would have to suffer the consequences of "committing a grave sin by trapping the guru."
Asaram Bapu has been in jail since September 2, over allegations that he sexually assaulted a schoolgirl in his ashram near Jodhpur.
The threatening postcard, which reportedly bear a seal of a post office in Gulbarga in Karnataka, was forwarded by court authorities to the Jodhpur police commissioner, who has now ordered an investigation. The police are now trying to trace the sender.
This is the latest allegation of threats received by those involved in the case against Asaram Bapu, who teaches yoga and meditation and runs 400 ashrams across India.
Jodhpur police officer Ajaypal Lamba, who is leading the investigations into the sexual assault charges against the guru, had earlier reportedly received threats by fax.
The teen complainant's family has also alleged threats from supporters of the 75-year-old guru. The family's lawyer has reportedly submitted audio recordings of threats made on phone as evidence in court.
The 16-year-old girl, who used to live in Asaram's ashram in Madhya Pradesh's Chhindwara district, has accused the guru of forcing himself on her at his ashram in Jodhpur on August 15, and threatening to kill her and her parents if she reported him.
The guru had allegedly asked the girl to come to his ashram, claiming that he would perform an "exorcism ritual" to rid her of evil spirits. He has denied the charges, and said he never spent any time with the girl alone.