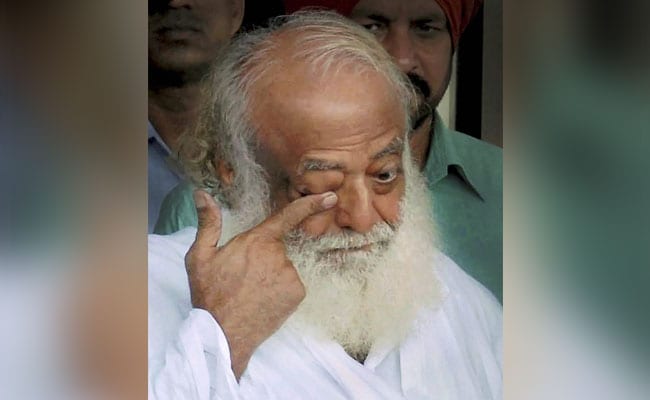 Highlights
Self-styled godman Asaram was convicted of raping teen at his ashram
He looked broken, nervous after verdict; will move higher court, he said
Asaram was sentenced to life imprisonment on Wednesday by Jodhpur court
Jodhpur:
After a judge pronounced him guilty of raping a 16-year-old girl,
self-styled godman Asaram
appeared broken and nervous, said police officers who were present on the premises of the Jodhpur central jail where the judgement was pronounced.
"Asaram appeared broken. He said he will now move a higher court," Press Trust of India quoted Jodhpur Jail Superintendent Vikram Singh as saying.
"Asaram seemed nervous on hearing the verdict," PTI quoted another police officer as saying, and added "Asaram was restless and kept on lumbering inside his cell for some time".
While the arguments on the quantum of sentence were on,
Asaram, 77
, kept asking his advocates to "do something".
Asaram was
sentenced to life imprisonment
on Wednesday, nearly five years after he was arrested. He was accused of
rape, and trafficking under POCSO
, a stringent law on sexual crimes against children.
The young girl Asaram raped was left alone with him by her parents because Asaram's aides said he would "cure" her of evil spirits that had possessed her. She testified later that he threatened to kill her if she revealed what he had done to her.
The judge said in his 453-page judgement that by his heinous act, Asaram has not merely shattered the faith of his devotees in him but has also harmed the reputation of saints among common people.
Of the four people accused along with him, two have been found guilty and sentenced to 20 years in jail. Two others have been acquitted.
With inputs from PTI