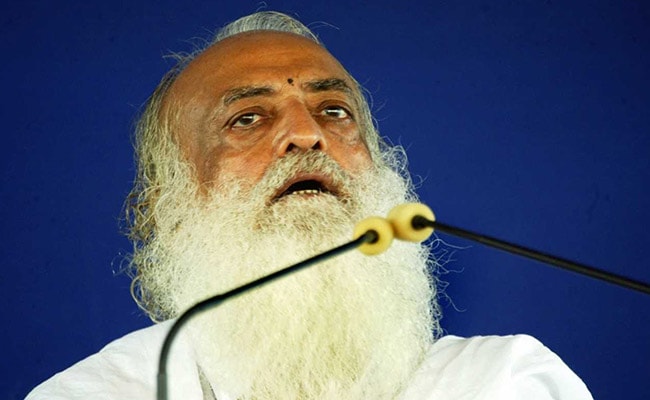 Highlights
Asaram's followers claim today's judgment was engineered by the BJP
His followers, by some estimates, number close to 40 million
Asaram has a huge following in BJP-ruled UP, Haryana and Gujarat
Jaipur:
With self-styled spiritual guru Asaram getting life imprisonment in a rape case, his followers -- who, by some estimates number close to 40 million -- have vowed to vote oust the BJP in the next elections. They claim that on Wednesday's judgment by a Rajasthan court, which put the 77-year-old behind the bars for the rest of his life, was engineered by the BJP.
A press note headed "Bapuji's crores of followers will shunt out the BJP in the coming elections" accused the government of interfering in judicial decisions, citing the recent Supreme Court verdict in the judge Loya case.
Last week, the top court had turned down a number of petitions calling for an independent inquiry into the sudden death of the judge, who was handling a murder case in which BJP chief Amit Shah was accused. His successor had cleared the BJP chief, saying there was not enough evidence for a trial.
"The BJP's interference in judicial matters is clearly visible" the note read, linking the verdict to the subsequent impeachment notice by the opposition.
"In the Asaram Bapu verdict, we cannot rule out that BJP may have tried to influence the judiciary. There might be a political interest involved here in view of the upcoming elections. The party may be trying to save its skin and take credit," the note read.
Asaram's followers warned that for the coming elections, they will undertake a statewide drive to oust the BJP.
While the BJP government of Vasundhara Raje is hoping for a second term in the coming assembly elections in Rajasthan, the warning has implications for the BJP in other states too, ahead of next year's general elections.
Asaram has a huge following in BJP-ruled Uttar Pradesh, Haryana and Gujarat. This morning, ahead of the verdict, the Centre had asked all four states to be on alert in view of possible law and order disruptions by Asaram's followers.
Asaram's spectacular rise from rags to riches over the last four decades has drawn political "friends" from both Congress and the BJP. He counted among his admirers former union minister Uma Bharti, Chhattisgarh Chief Minister Raman Singh, Rajasthan Chief Minister Vasundhara Raje and ex-ministers Kapil Sibal, Kamal Nath and Ashok Gehlot of the Congress.