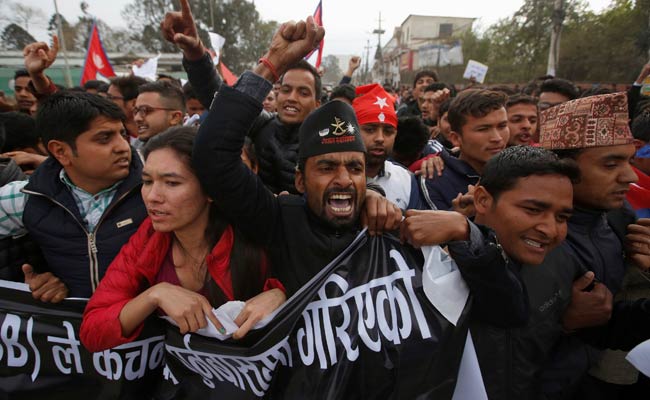 Highlights
NSA Doval calls Nepal PM, promises probe on border killing
Nepali man killed in alleged firing amid protests at India-Nepal border
Man killed declared as martyr by Nepal government
Kathmandu:
As anti-India protests over the alleged killing of a Nepalese man by Indian border guards escalated on Friday, National Security Adviser Ajit Doval telephoned Nepal Prime Minister Prachanda to offer condolences and promise an inquiry into the death.
Mr Doval's phone call came a day after Indian Embassy in Kathmandu rejected allegations that a Sashastra Seema Bal (SSB) officer shot a 25-year-old Nepalese national Govinda Gautam on Thursday over a dispute on construction of a culvert. District administration officials on both sides had insisted it was on their side of the Indo-Nepal border.
On Friday, fresh protests erupted in Anandabazaar, which is 477 km southwest of Kathmandu, with an even bigger group of Nepalese attacking a local government office, Home Ministry spokesman Bal Krishna Panthi said.
Another group of demonstrators tried to march on the Indian embassy in Kathmandu in protest over the shooting, but were stopped by police, leading to scuffles, police official Chhabi Lal said.
The protests, which started from the border district of Kanchanpur also reached the Prime Minister's official residence in capital Kathmandu. The Prachanda government declared Gautam a "martyr", announced Rs 10 lakh compensation to the next of kin and pledged to fund the education of his young children.
Mr Doval, who called PM Prachanada on behalf of Prime Minister Narendra Modi, said Indian authorities have initiated a probe into killing. A statement issued by the Nepalese Prime Minister's Secretariat said the NSA also conveyed PM Modi's grief over the death and expressed condolences to the family.
PM Prachanda told Mr Doval said that the Kanchanpur incident was "very serious" and expressed Nepal's readiness to provide the required support for the investigation.
An Indian Embassy official said Nepal had been requested to provide forensic and autopsy reports to facilitate the inquiry being conducted by the SSB.
(Inputs from PTI and Reuters)