Ahmedabad:
As former Prime Minister Manmohan Singh was
addressing traders and businessmen
at an auditorium in Ahmedabad today, ripping into the Narendra Modi government's big reforms notes ban and GST, Gujarat Chief Minister Vijay Rupani of the BJP launched a counter attack on Twitter in a series of questions for the Congress leader.
Mr Rupani used the hashtag #SpeakUpMMS and began with a "warm welcome to Dr Manmohan Singh," then tweeting what he said were questions the people of Gujarat are keen to ask the former Prime Minister. About 15 of them, ranging from the demand for an apology "as PM of the most corrupt government in India's history," to "Why do Dr. Manmohan Singh, Smt. Sonia Gandhi and UPA have an anti-Gujarat mindset?"
The chief minister also asked how as an economist Dr Singh has not supported new national sales tax GST, "which benefits every Indian."
Dr Singh said the
"twin blow" of last year's demonetisation
and the Goods and Services Tax (GST) implemented this July "is a complete disaster for our economy, it has broken the back of our small businesses."
The former Prime Minister said, "A well-designed GST would have been revolutionary... But the loopholes and an ill-designed GST have caused hardships." He said he was reiterating that the notes ban "was organised loot and legalised plunder."
Finance Minsiter Arun Jaitley at a press conference today alluded to Dr Singh's attack on the government's policies and said it is surprising that "an economic exercise behind which there is ethical and moral rationale is being described as loot."
"I feel that even on the matter of ethics our vision and Congress' vision are different. Their primary object is to serve the family and our primary object is to serve the nation. Even on these, preliminarily we may not be able to agree," the Finance Minister said.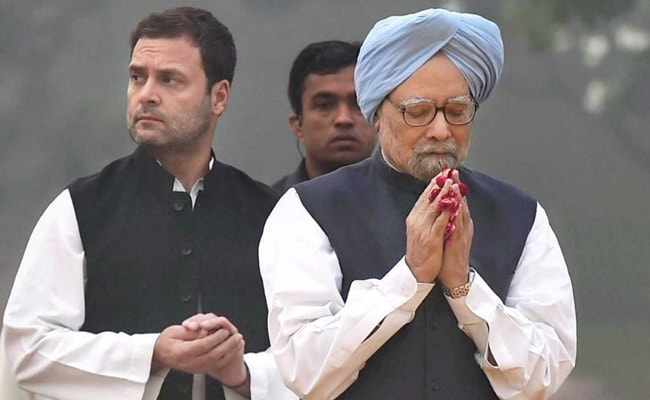 Vijay Rupani hit back tweeting, "Organised loot & plunder is what UPA did for 10 years. If UPA thought about the nation, not 1 family, things would be different."
The Congress fielded Dr Manmohan Singh in Gujarat, which elects a new government next month, on the eve of the first anniversary of demonetisation, when Prime Minister Narendra Modi suddenly banned high-value notes in a bid to combat corruption and black money. The Congress and other opposition parties have said they will mark November 8 as "black day." Congress vice president Rahul Gandhi will be in Gujarat tomorrow and will participate in protests in Surat.
The BJP, which has ruled Gujarat for the last 22 years, has staunchly defended the economic policies of the central government it leads, with PM Modi and senior ministers and leaders asserting that both demonetisation and GST will fetch long-term games, accusing those who oppose them of weakening the cause of fighting corruption. They are observing the day as "anti-black money day," to celebrate the war on corruption.
Congress leaders come to Gujarat & remember Sardar Patel during polls. People of Gujarat will never believe their empty words. #SpeakUpMMS

- Vijay Rupani (@vijayrupanibjp) November 7, 2017
Did UPA undertake even a single measure to bring back a paisa of Black Money back to India? #SpeakUpMMS

- Vijay Rupani (@vijayrupanibjp) November 7, 2017
Follow NDTV for latest election news and live coverage of assembly elections 2019 in Maharashtra and Haryana.
Subscribe to our YouTube channel, like us on Facebook or follow us on Twitter and Instagram for latest news and live news updates.