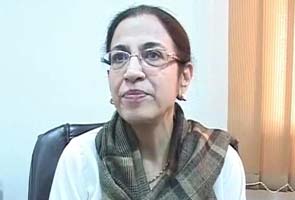 New Delhi:
Annu Tandon, the Congress MP from Unnao in Uttar Pradesh today slammed India Against Corruption (IAC) activist-politician Arvind Kejriwal for what she termed as "frivolous and malicious" allegation of her stashing away Rs.125 crore in a Swiss bank.
Soon after Mr Kejriwal made the allegation at a press conference in New Delhi, Ms Tandon told reporters that the accusation levelled by the IAC were "completely baseless."
"It is a completely baseless and malicious allegation. I completely deny any corruption," she said.
Mr Kejriwal had claimed that Ms Tandon and her late husband Sandeep Tandon had Rs.125 crore each stashed away in an HSBC Bank branch in Geneva. He also said that that Mr Tandon was an Indian Revenue Service officer and was in the Enforcement Directorate as well.
"Sandeep Tandon had raided Reliance as an income tax officer. Isn't it strange that he then went to work for the same company," Mr Kejriwal asked.
He also said that both sons of Ms Tandon work for Reliance.
"My husband is dead. I have nothing more to say on these allegations," the MP said, in response to the IAC naming him as one of the 700 Indians who had illegal money stashed away in Swiss bank accounts.
"It is not right on the part of Kejriwal to make such loose comments," she said, adding that she would discuss the next course of action on the allegation with her two sons.
She also dismissed the claims of IAC that she was close to Congress general secretary Rahul Gandhi and was part of his core team.
"This claim is ridiculous. I am a member of parliament and a Congress member. Rahul
ji
and Sonia
ji
are my leaders. I am doing my job to the best of my ability in these capacities," she added.

(With IANS inputs)
Get Breaking news, live coverage, and Latest News from India and around the world on NDTV.com. Catch all the Live TV action on NDTV 24x7 and NDTV India. Like us on Facebook or follow us on Twitter and Instagram for latest news and live news updates.