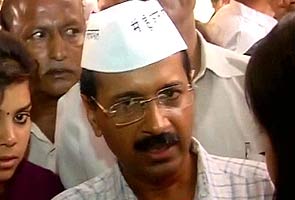 New Delhi:
Arvind Kejriwal on Sunday set the ball rolling for a direct electoral fight with Sheila Dikshit in the coming Delhi Assembly elections choosing to contest from the constituency where the Delhi Chief Minister will file her nomination.
At a convention of Aam Aadmi Party (AAP) workers, Mr Kejriwal also chose to attack BJP, saying the party fielded weak candidates against Ms Dikshit in the previous polls and challenged Vijay Goel to contest against him and Ms Dikshit.
He said he wished to contest from a New Delhi constituency and take on Ms Dikshit directly in the electoral contest.
"If she decides to avoid such a contest in New Delhi constituency out of fear and move to another, I will also move to the seat from where she is contesting," he said.
However, the final ratification of Mr Kejriwal's candidature will come after a process, which includes collecting 100 signatures from people in the constituency and interviews with a screening committee and Political Affairs Committee of AAP.
In 1998, Ms Dikshit defeated BJP candidate Kirti Azad in Gole Market seat by a margin of 5,667 votes after garnering 24,881 votes and five years later, she defeated Poonam Azad by 12,935 votes after winning 25,156 votes.
After delimitation exercise, Gole Market seat became defunct and she moved to the New Delhi seat which has most localities from the previous seat. Ms Dikshit has won from the seat defeating BJP's Vijay Jolly by 13,982 votes after polling 39,778 votes.
"Why have we chosen to take on Dikshit? Delhi wants to get rid of Dikshit because she has become the symbol of corruption," he alleged.
Mr Kejriwal said people no more see the BJP as a party which can defeat Congress.
Alleging that BJP was playing an "already fixed" match with Congress in Delhi, he said, "People have realised that BJP deliberately fields weak candidates against the chief minister. This time, there is a fight among its leaders on who will be their chief ministerial candidate."
"Only AAP can defeat Congress in Delhi in the coming assembly elections. BJP and Congress indulged in match fixing in the last 15 years. BJP is hand in glove with Dikshit. Hence, only AAP can defeat Congress in Delhi," he claimed.
"Since the BJP has lost assembly elections held in the past 15 years, its name is already out of the political scenario of Delhi. BJP is out of Delhi's political scene. And AAP is the new entrant," said Mr Vishwas.
Lawyer and AAP leader Prashant Bhushan also supported Mr Kejriwal decision of contesting against Ms Dikshit, saying that the leader, who has become "symbol" of the current political system, should be taken head-on in her own constituency.
"If we want to change the political system of the country, we will field Kejriwal opposite the personality, who is symbol of this political system," said Mr Bhushan.