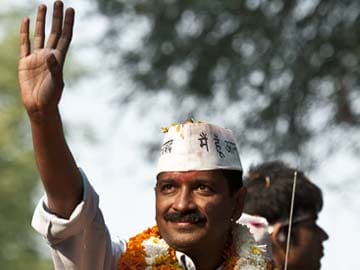 New Delhi:
Taking umbrage at recent remarks by Aam Aadmi Party (AAP) leader Arvind Kejriwal that he had chosen public service over being an Income Tax Commissioner and "earning crores", an association of revenue department officers today shot off a letter to him, saying such utterances were "unnecessarily damaging the image of the fine service".
The Indian Revenue Service (Income Tax) or IRS (I-T) all-India body, in a two-page letter to Mr Kejriwal, also pointed out that he had technically never worked in the post of a Commissioner of Income Tax.
"Contrary to your claims, you have never worked as Commissioner and your batch has still not been promoted to (the rank of) Commissioners of Income Tax," the association told Mr Kejriwal in its letter.
It also expressed "strong anguish and hurt" over one particular statement attributed to Mr Kejriwal, which was quoted in the letter, in which the AAP leader says that, "As Commissioner, I could have made crores and travelled in a car fitted with a beacon light. But I left the service and decided to serve the nation".
Reacting to that remark, the association said, "The statements being attributed to you cast aspersions on the whole of the department.
"The association wishes to remind you that no department or organisation is corrupt or honest, it is the individuals who may be so," the letter stated, while pointing out that he should not forget that his wife was a member of the same revenue service fraternity.
"In these circumstances, we request you to desist from making such statements in public and in the print and electronic media, otherwise we will be constrained to take steps to protect our image," the association said.
The IRS (I-T), at present, has over 4,000 members and officers.