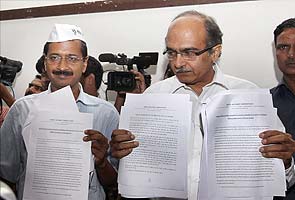 New Delhi:
Activist turned politician Arvind Kejriwal and lawyer-activist Prashant Bhushan today accused businessman Robert Vadra and real estate giant DLF of deeply illicit links. They said Mr Vadra was given an interest-free loan from DLF, which also sold him vast amounts of property at hefty bargains in return for favours from the Congress.
Here are the reactions:Anna Hazare, Gandhian activist
Congress leaders say that these allegations are made as elections are there, they are baseless. If it is so, then why don't they investigate the matter? They tell so many lies. They made standing committee for Jan Lokpal but they lied there. PM gave me in writing about the Jan Lokpal, but they did nothing. I will tell people not to vote for them. If the allegations of Arvind are wrong, then why don't they investigate it?
Arvind Kejriwal, activist turned politician
Robert Vadra acquired properties worth hundreds of crores from nothing. What is the source of these funds?
Prashant Bhushan, lawyer-activist
This is a serious offence. How does Robert Vadra buy so much property? All these need to be investigated. But even these documents are good enough to prosecute him under the Prevention of Corruption Act.

Shanti Bhushan, lawyer-activist
We must compel the government to conduct an investigation into the matter. This is a big scam by Robert Vadra and his mother.
Salman Khurshid, Law Minister

The words preposterous and stupid sums up what they have said. We will teach Kejriwal a lesson. They better prepare for a tough time ahead. This is a political conspiracy, we will answer it politically. We will explore every option, legal options as well. We are here to defend our leadership, protect our leadership and to make those who made these allegations suffer.
Brinda Karat, Senior Left leader
Some facts came to light one year ago. We think when this matter has come up then the government should investigate and keep the matter in front of the people. It should be scrutinized.
Rajiv Shukla, Minister of State for Parliamentary Affairs

Robert Vadra was a businessman before he got married. He took a loan, that's how business works. There no help given to DLF. Let there be proof shown if DLF was favoured in any way. All these allegations are baseless, made for political gain.
Rashid Alvi, Congress Spokesperson

This is a conspiracy to malign Sonia Gandhi and her family.
Sidharth Nath Singh, BJP Spokesperson

The coal-gate led to the PM. This leads to the doorstep of Sonia Gandhi and therefore you see ministers coming out with competitive sycophancy.
Mukhtar Abbas Naqvi, BJP

There was Waterloo, this is Vadra-loo. The Congress president's house has been turned into a place for real estate deals.
Manish Tewari, Congress Spokesperson

This is not even a political conspiracy. It is political chicanery of the worst kind. The same forces were in the forefront to malign the Congress in the 70s and 80s and they were found to false. The same forces are now back. All these allegations are false and just rumours. To make such allegations before elections, proves that the so-called civil society are two sides of the same coins, they are the B-team of the BJP. We dismiss them with the contempt they deserve.
Ambika Soni, Information Broadcasting Minister
Everyone has the right to do business in whatever they want. The basic point is that there should be transparent.
Ravi Shankar Prasad, BJP Spokesperson

If DLF was doing charity, then why? Does it do so with other customers? If not, then why with Robert Vadra? The country wants to know. This is definitely a case of quid pro quo. The BJP demands a thorough inquiry.
DLF
DLF referred to a statement it issued last year to a newspaper in which it said "The business relationship of DLF Group with Robert Vadra has been in his capacity as an individual entrepreneur and on a completely transparent and armslength basis."

Bhupinder Singh Hooda, Haryana Chief Minister
We never allotted land to anyone, land was given only after bidding.