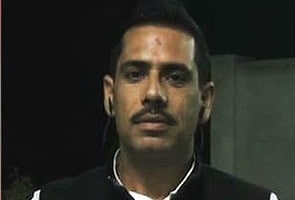 New Delhi:
Activists Arvind Kejriwal and Prashant Bhushan have accused businessman Robert Vadra and real estate giant DLF of deeply illicit links -they say Mr Vadra was given an interest-free loan from DLF, which also sold him vast amounts of property at hefty bargains in return for favours from the Congress . They however offered no evidence of a quid pro quo. Mr Vadra is married to Priyanka Gandhi, the daughter of Congress president Sonia Gandhi who is also the chairperson of the UPA, the ruling coalition.
"All businessmen take loans to build their business. Maybe Robert Vadra also did that. What is wrong with that? But there is nothing to prove any wrong-doing...no proof that the Congress helped out DLF,"said Congress leader Rajiv Shukla.
Mr Kejriwal and Mr Bhushan, who launched an unnamed political party earlier this week, said DLF sold under-valued flats, many of them in Haryana, its main market, to Mr Vadra. In exchange, they said, the Congress party gave the developer vast amounts of land in states like Haryana where the party is in power. Some of this land, they said, had been acquired from farmers for public projects. The activists also said that clearances and permissions were given to DLF projects at lightning speed. Haryana chief minister Bhupinder Singh Hooda refused to comment on the allegations levelled by the activists.
Mr Kejriwal and Mr Bhushan said that while an independent investigation must be conducted, Mr Vadra's status as Sonia Gandhi's son-in-law guarantees that an impartial inquiry is impossible.
The BJP predictably seized the allegations to target the Congress and said the party should not dismiss the accusations without a detailed investigation. "The UPA chairperson's home has been turned into a place to make real estate deals," said the opposition party's spokesperson, Mukhtar Abbas Naqvi. Analysts appearing on NDTV said that the activists have offered no evidence of a quid pro quo between Mr Vadra and DLF, but the problem for the party will lie in how to counter perception. After a series of lurid financial scandals, the UPA is being seen at home and abroad as a government entangled in graft. The BJP has made corruption one of the cornerstones of its campaign ahead of elections in states like Gujarat, and will build on this for the general elections scheduled for 2014.
The activists allege that about five years ago, DLF gave Mr Vadra an interest-free loan of 65 crores. Mr Vadra's five companies, which on paper were worth 50 lakhs, say the activists, used this loan to buy DLF properties. They say thaty from 2007 to 2010, Mr Vadra bought property that was worth 300 crores and is valued at 500 crores today. "How did he afford this?" they asked. "What was DLF's interest in giving him hugely-discounted properties?"
They claim that DLF was given land reserved for public-interest projects by the Congress government in states like Haryana, and that DLF received clearances at lightning speed.
As an example, they cite the fact that Mr Vadra allegedly got seven apartments at massively discounted rates in a housing project called Magnolia in Gurgaon near Delhi. The developer had been given 350 acres by the Haryana government for this project. "Is that the quid pro quo for DLF giving Vadra the seed money for the purchase of these massive properties worth hundreds of crores?" they asked
The activists also alleged that Mr Vadra has registered six new companies in 2012. They asked about the source of funds for these new companies. "Are illicit funds of the Congress party being funnelled into this property-buying spree?" they added.