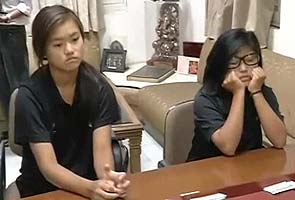 New Delhi:
China's stapled visas for two young archers from Arunachal Pradesh, which stopped them from going for a world championship that starts on Saturday, has sparked anger in India.
Arunachal Chief Minister Nabam Tuki has said he will ask Foreign Minister Salman Khurshid to take up the incident with China.
Maselo Mihu and Sorang Yumi were the only two archers in the 30-member squad to be given stapled visas, issued by China as a mark that Arunachal Pradesh is 'disputed."
They were stopped by immigration authorities just as they were boarding last night's flight to China for the Youth World Archery Championship in Wuxi, and told that the stapled visas would not be accepted.
The girls were 'shocked and heartbroken', said an airport official.
"When we reached the airport, we didn't know we had a stapled visa. We were told that is not allowed and we can't go. The others went, we were left...we felt sad," said Sorang Yumi. Both girls are now at a guest house in the capital.
Minority Affairs Minister Ninong Ering, an MP from Arunachal Pradesh, lashed out against China and said India should boycott cross-border trade with the country.
"Stapled visas are a disgrace to us. We want to have trade relations with China; that doesn't mean China has a claim over us," Mr Ering said.
"If the issue surfaces again, we need to boycott any kind of cross-border relations with China. Are they thinking of us as third-grade citizens?"
Former Arunachal Pradesh MP Kieren Rejiju today resigned from the Archery Association of India in protest. "The rejection of the two young girls due to stapled Visas is another humiliation to us," he said.
China's practice of issuing stapled Visas to residents of Arunachal Pradesh and Jammu and Kashmir, which it considers disputed, has long been a bone of contention between Beijing and New Delhi. India says these visas are invalid, and has taken it up with China.
The row erupted in 2011, when two weightlifters from Arunachal Pradesh were prevented by immigration officials from boarding a flight from New Delhi to Beijing because of the stapled visas issued by the Chinese Embassy on their passports.