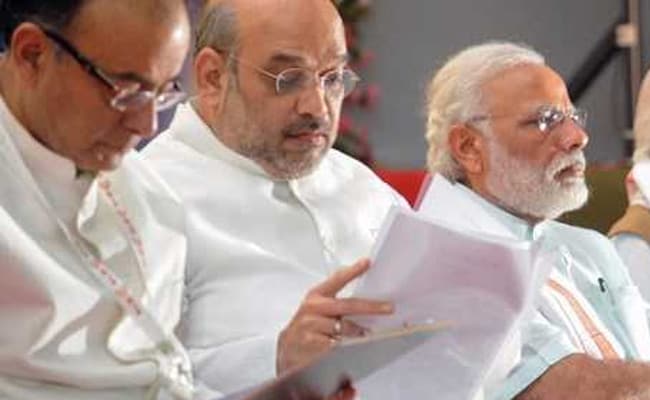 New Delhi:
Amid strong buzz around a cabinet reshuffle any day now, Finance Minister Arun Jaitley was today asked by reporters how long he would continue as Defence Minister. "At least I hope not very long," he replied, chuckling.
Mr Jaitley took on the extra job after Manohar Parrikar shifted to Goa as Chief Minister earlier this year. Sources say he is likely to shed one of the two ministries before he leaves next month for Japan, where he is to attend the annual defence ministers' conference.
The possibly last major reshuffle before the 2019 national election is expected before Prime Minister Narendra Modi leaves on Sunday for a BRICS summit in China. Amit Shah, the chief of the ruling BJP, has held several meetings over the past few days and today held discussions with eight ministers including Mr Jaitley. But minister Nirmala Sitharaman asserted "it was about the Gujarat polls, nothing else was discussed."
Many expect a change in the Railways Ministry after a series of accidents. For the first time after two derailments within four days, Minister Suresh Prabhu met PM Modi and
indicated that he had offered to quit but was "asked to wait"
.
A rejig of the government has been due for months now, especially in the scenario of vacancies and shifting alliances. The ruling BJP may also accommodate leaders like Bhupendra Yadav, the in-charge of Gujarat, with an eye on elections in the state later this year.
Two key ministries opened up and were re-alloted after M Venkaiah Naidu was named Vice President of India. The Environment ministry was reassigned as additional charge after the death of minister Anil Dave.
One of the ministers, Mahendra Nath Pandey, has been given additional responsibilities within the party. The minister, who took over as the junior minister of HRD ministry last year, was appointed the BJP chief in Uttar Pradesh today. The post is currently held by Keshav Pradhan Maurya.
The
Centre is widely expected to reward Nitish Kumar's Janata Dal (United)
, which is back to sharing power with the BJP in Bihar after a dramatic break-up with Lalu Yadav's RJD and the Congress in July.
Former union minister Praful Patel has denied reports that his NCP or Nationalist Congress Party will join the Modi government. "There is no basis for speculation that the NCP is joining the government in Delhi," Mr Patel tweeted on Monday.
Many are not convinced after Sharad Pawar's party has been telegraphing its detachment from the Congress-led opposition. The NCP skipped a meeting of the opposition called by Sonia Gandhi earlier this month, despite Mr Pawar claiming he would depute a representative. It was speculated that Mr Pawar was upset about the Congress suggesting he had betrayed the party in the recent Rajya Sabha election in Gujarat.