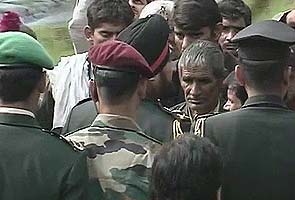 Mathura:
Army Chief General Bikram Singh today visited the home of one of the two Indian soldiers who were killed by Pakistani troops near the Line of Control in Kashmir last week.
"This is my family too and I have come to meet them," General Singh said as he met the family of Lance Naik Hemraj Singh in his village in Mathura. "His sacrifice will not be in vain," he added.
Lance Naik Hemraj and Lance Naik Sudhakar Singh were killed by Pakistani troops on January 8 in Poonch sector in Jammu and Kashmir. Hemraj's body was beheaded; the body of the other soldier was also mutilated.
Last week, Lance Naik Hemraj's family had gone on a fast demanding that his head be brought back from Pakistan. His wife and mother had refused to end their hunger strike and demanded that the Army Chief must visit their house and assure them that his severed head will be brought back.
"I am here to assure them that they will get what is due to them," General Singh said today. Addressing the annual Army Day press conference yesterday, he had added that the Pakistani army should be pressurised to return his head. "I think we should pressurise them nationally and internationally as part of our national element so that they are made accountable and they are made to return the head of our soldier which they have taken away," he said.
Asked about his reaction to Pakistan's claim that one of its soldier was killed yesterday in "unprovoked firing" by India, General Singh said, "If a Pakistani soldier has been killed, it may have been in retaliatory firing. We have not crossed the Line of Control. We have never violated human rights, but when they fire, we also fire."
(With Inputs from PTI)