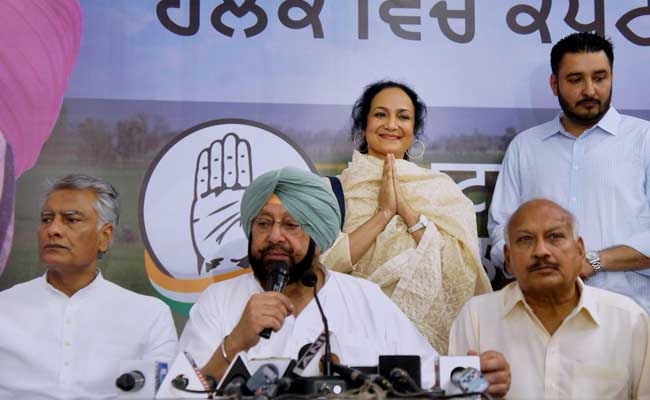 Khem Karan, Punjab:
Punjab Congress chief Amarinder Singh today asked Prime Minister Narendra Modi to spell out whether India was at war with Pakistan even as he denounced the "forcible" eviction and displacement of villagers from the border areas of Punjab.
Addressing a series of meetings in villages in Khem Karan and Tarn Taran along the International Border today, the former chief minister also said the surgical strikes were carried out across the LoC even during the Congress regime "but nobody tried to take political mileage out of it".
"Are we really at war with Pakistan?" Amarinder Singh asked the Prime Minister.
"On one hand the Prime Minister is emphasising the need for de-escalation, on the other the poor villagers are being forcibly evicted. Please clarify your stand," he said.
The former chief minister said, he and his party had strongly supported the surgical strikes and will again support it if the need arises.
"But we will certainly not support any move that is obviously aimed at the attempts to reap political dividends at the cost of people's lives and well being," he said.
Besides, he added, "even during Congress regime surgical strikes were carried out across the LoC but nobody tried to take political mileage out of it".
Mr Singh claimed the PM and the BJP were deliberately trying to "create war hysteria" with an eye on the elections in Uttar Pradesh and Punjab.
"Unfortunately Chief Minister Parkash Singh Badal is blindly following Modi's and BJP's diktats without bothering how much harassment and difficulties they have caused to the people, particularly the farmers whose crop is ready for harvesting," he said.
"There is no troop movement anywhere whether on this side or across the border. Besides, the armies of both the countries are in their respective peace zones. The only reason for uprooting you is to create war hysteria so that the BJP gets some advantage in the UP election," he told the villagers at Chhinna Bidhi Chand near the IB.
Punjab shares a 553-km border with Pakistan and there are six districts in the state which lie close to the IB.
Nearly 1,000 villages which fall within 10-km radius of the IB were asked to be evacuated in apprehension of retaliation from Pakistan after the Indian Army carried out surgical strikes across the LoC.