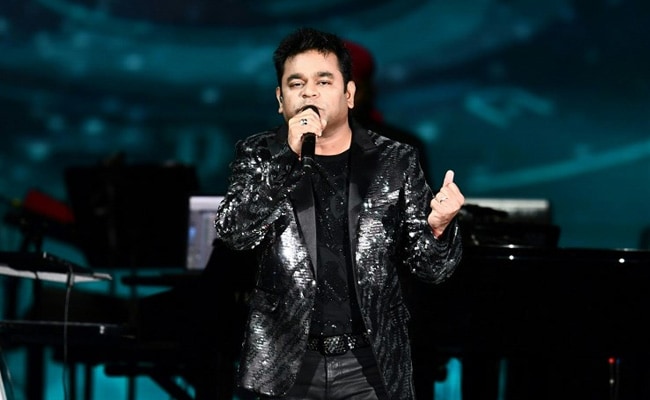 Highlights
Singer Chinmayi Sripaada said the concert had 65 per cent Hindi songs
Music composer AR Rahman has not responded to his critics
Some people alleged Mr Rahman played more Tamil numbers than Hindi ones
Chennai:
Music composer AR Rahman has found himself in the middle of a language war a week after he performed at a concert at Wembley Stadium in London. On Thursday, social media was abuzz with disappointment after a section of the audience at the concert reportedly walked out, alleging he played more Tamil numbers than Hindi ones.
"That was my first ever Tamil concert guys. Albeit completely unintentional," Omer Chowdhury, who attended the concert, tweeted. Apoorva Dixit, who also went to the concert and returned disappointed, said, "It was a total disaster. For someone who made his name in Bollywood, at least on sheer numbers, it was disrespectful from him, even speaking Tamil."
Back home in Tamil Nadu, however, fans of the music composer who has won the Oscars and Grammys, have come to his defence. They say Mr Rahman in fact played quite a lot of Hindi songs at the concert.
Many people who attended the concert said though the tickets were sold for a Tamil concert titled 'Netru Indru Nalai', Mr Rahman played more Hindi songs.
"There were 165 Hindi numbers and a medley with Hindi parts, but he sang just 12 Tamil songs," Enthil Velan, who coordinated the event, said.
Playback singer Chinmayi Sripaada tweeted the concert had 65 per cent Hindi songs. Ms Sripaada went on to hint at the hypocrisy of those criticising the music composer.
Chase the American dream, your kids can Spanish; Live in the UK that once colonised India - but cry foul when a when you hear Tamil songs

- Chinmayi Sripaada (@Chinmayi) July 14, 2017
Film historian Mohan Raman did not mince words. "AR Rahman is a very honest, loyal, proud Indian and an equally proud Tamil. That's why in his Oscars acceptance speech he spoke in Tamil. If at all any one has to complain it's Tamil fans saying we have not got the lion's share," Mr Raman said.
Mr Rahman has not responded to his critics.