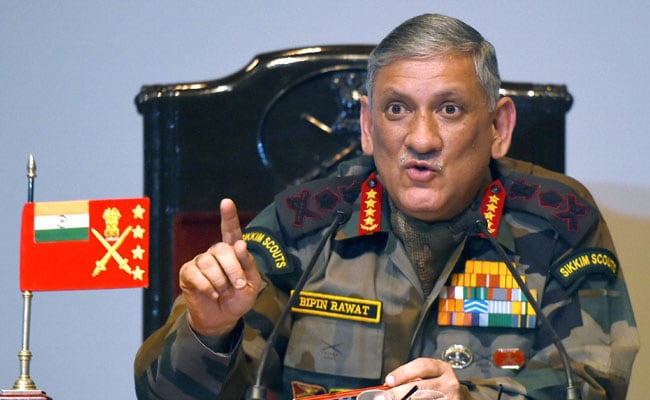 New Delhi:
Army Chief General Bipin Rawat today said the appointment of an interlocutor to engage in dialogue with stakeholders in Jammu and Kashmir would not impact Army operations in the state.
The government, he said, was speaking from a "position of strength" on the Kashmir issue.
The government's existing policy on Jammu and Kashmir had helped in improving the overall situation in the state, he told reporters on the sidelines of a FICCI event here.
Asked whether the appointment of former Intelligence Bureau chief Dineshwar Sharma as interlocutor would impact the Army's operations in the state, he said, "My one word answer is no, it will not."
The government on Monday appointed Mr Sharma as its special representative for a "sustained dialogue" with all stakeholders in Jammu and Kashmir, in a fresh move aimed at bringing peace to the troubled state.
Responding to a question on whether Mr Sharma's appointment meant that the tough policy on Kashmir was not working, he said, "I do not think so. What is in your mind is not correct. The policy of the government has worked. The government is speaking from a position of strength."
He said incidents of cross-border infiltration had come down and the overall situation in the state had improved significantly in the last few months.
"In January, you had asked me whether the situation has deteriorated in Kashmir, whether we have lost Kashmir. Now you analyse where is Kashmir?" he asked.
"We have killed terrorists on the Line of Control because of which the situation has improved."