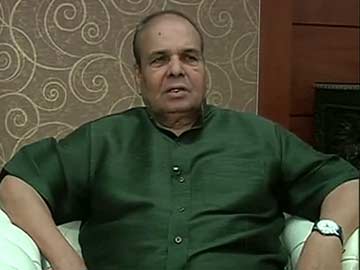 New Delhi:
In the wee hours of Sunday, the government announced its decision to transfer K Sankaranarayanan, the Governor of Maharashtra, to Mizoram.
Mr Sankaranarayanan was among the dozen governors, appointed by the UPA, who were earlier asked to resign by Prime Minister Narendra Modi's government. He had dug in his heels and refused to do so. (
A Governor Says He's Not Hurt by Call to Quit. But He's Not Complying Either
)
Some of those who were persuaded to step down were B L Joshi (Uttar Pradesh), M K Narayanan (West Bengal), Shekhar Dutt (Chhattisgarh), Ashwani Kumar (Nagaland) and B V Wanchoo (Goa). (
Governor Ashwani Kumar Gives Government What it Sought: His Resignation
)
A communique issued well past Saturday midnight by the Rashtrapati Bhavan stated that the 82-year-old Mr Sankaranarayanan had been transferred to Mizoram for the remainder of his term, which ends in 2017. Gujarat Governor Om Prakash Kohli has been asked to discharge his duties, it added. (
As Modi Government Tries to Force Exits, Governors Push Back
)
Earlier this month, the BJP-led government had sacked Kamla Beniwal as the Governor of Mizoram on the grounds of "gross impropriety", just two months before her tenure would have come to an end. Barely a month before her sacking, she had been transferred from Gujarat, where she had had several run-ins with the then Chief Minister Narendra Modi. (
Kamla Beniwal Sacked As Governor, Government Cites 'Serious Allegations'
)
Mr Sankaranarayanan had told media personnel in mid July that he had received two calls from Home Secretary Anil Goswami, asking him to resign, but he had refused to do so.
"The Governor's post is a constitutional post. He is a representative of the President; he is appointed by the President. If an appropriate decision making authority asks me (to quit), I will definitely think over it," he had said. (
In Government Moves Against UPA Appointees, Another Governor Resigns
)
Mr Sankaranarayanan's transfer comes barely a day after the Supreme Court sought an explanation from the government on whether Uttarakhand Governor Aziz Qureshi had received phone calls from Home Secretary Anil Goswami, asking him to quit.
Mr Qureshi, who claimed that the government presented him with two options - quit or be sacked, has dragged the government to court over the issue. (
Challenged in Court By a Governor, Centre Denies Trying to Sack Him
)
The Congress and other Opposition parties have pointed out that in 2010, the Supreme Court had ruled that Governors cannot be removed just because a new government takes charge.
Get Breaking news, live coverage, and Latest News from India and around the world on NDTV.com. Catch all the Live TV action on NDTV 24x7 and NDTV India. Like us on Facebook or follow us on Twitter and Instagram for latest news and live news updates.