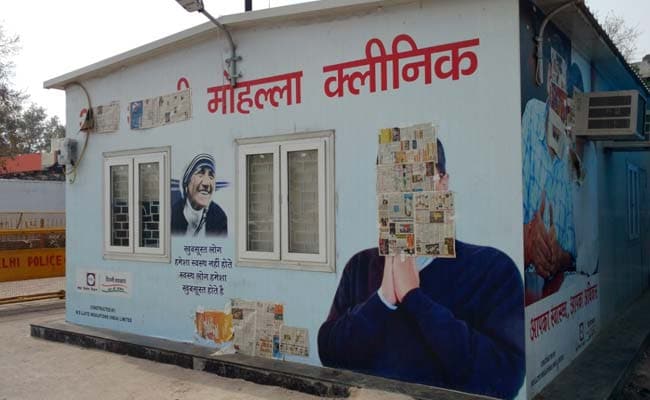 New Delhi:
Another doctor at a mohalla (community) clinic in Delhi has tested positive for coronavirus or COVID-19. The woman doctor is the wife of the doctor at Delhi's Maujpur community clinic, who was tested positive last week.
The fresh case has been reported from northeast Delhi's Babarpur, about a km away from Maujpur. Patients who visited this clinic between March 12 and March 20 have been asked to quarantine themselves at their homes for next 15 days. It's not yet clear if the doctor had a history of foreign travel or came in contact with somebody who did.
Delhi has recorded nearly 50 cases in the last two days as the COVID-19 count crossed the 100-mark; two deaths have been reported from the city so far.
The chain of infection at Maujpur started with a woman who returned from Saudi Arabia on March 10, and visited the clinic with symptoms of COVID-19. The doctor was exposed to the virus when the 38-year-old woman visited the clinic on March 12, according to Delhi Health Minister Satyendar Jain. Five days later, she tested positive. That day, the doctor was also admitted in hospital.
Five more persons had tested positive for the virus from direct contact with the woman - her mother, brother and two daughters, and a relative who picked her up from the Delhi airport on her arrival. Some 74 persons in her neighbourhood are also under watch.
Last week, Chief Minister Arvind Kejriwal had said community clinics would stay open regardless of this case, as the poor would otherwise be forced to seek out hospitals that are far away and costly. "They will take precautions," he said.
Mohalla clinics are community health centres set up by the Aam Aadmi Party (AAP) government in Delhi mainly for the economically weaker.
These cases are being reported at a time when India is under a total lockdown for three weeks to control the spread of COVID-19, which has infected over 1,250 people across the country. At least 32 have died.
World
Coronavirus has spread to 192 countries. The total confirmed cases worldwide are 15,52,00,384 and 32,41,788 have died; 6,03,54,534 are active cases and 9,16,04,062 have recovered as on May 6, 2021 at 9:18 am.
India
1,76,12,351

331507
Recovered
In India, there are 2,14,91,598 confirmed cases including 2,34,083 deaths. The number of active cases is 36,45,164 and 1,76,12,351 have recovered as on May 7, 2021 at 8:00 am.
State & District Details
State
Cases
Active
Recovered
Deaths

4942736 62194

641281

4227940 63842

73515 853

Sri Potti Sriramulu Nell*

296

1228186 21954

182329 11741

1037411 10141

8446 72

1790104 49058

517095 29787

1255797 18943

17212 328

108267 3869

29752 1788

77014 2023

1501 58

1297500 24898

131468 3157

1151058 21546

14974 195

1786396 42464

391253 15249

1389515 27152

5628 63

816489 13846

131245 2034

675294 11600

9950 212

Jayashankar Bhupalapally

9

481640 5892

73851

405164 9122

2625 46

500162 10521

74784 3650

423257 6854

2121 17

637406 12421

88614

542632 12965

6160 86

645972 12545

147525

490412 13021

8035 123

702568 17532

198010 1327

499376 16044

5182 161

573815 14840

115842 2417

452836 12246

5137 177

1425916 26622

259844

1151571 28902

14501 350

1273035 19133

90629

1164008 20028

18398 335

277687 4936

33176 1914

242980 2976

1531 46

9183 264

2256 206

6769 55

158 3

553803 15126

115152 1672

435574 13364

3077 90

935066 18431

122774 902

800328 17412

11964 117

North And Middle Andaman

1

6255 32

225 1

5958 30

72 1

66627 1510

12430 713

53296 779

901 18

19634 222

1858 82

17717 140

59

15271 267

2245 207

12905 57

121 3

8502 177

1581

6917 195

4

270089 6974

60633 1101

205977 5740

3479 133

36849 315

2292 165

34153 149

404 1

14909 98

1432

13326 160

151

201511 4926

41666 2038

157283 2836

2562 52

118729 3942

27756 1854

89236 2043

1737 45

Shahid Bhagat Singh Nagar (Nawanshahr)

99

416350 8841

66568 3561

339803 5126

9979 154

220351 8517

62911 3385

154147 4981

3293 151

33733 380

2991 334

30295 33

447 13

47552 759

8420 57

38591 693

541 9

18630 347

2351 216

16086 129

193 2

7147 183

1779 137

5351 46

17

3528 152

1146 17

2374 134

8 1