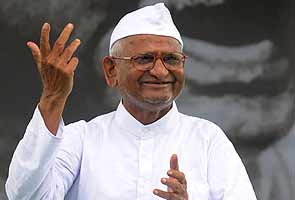 New Delhi:
Days after he received an invitation from Arvind Kejriwal to join his indefinite fast, Anna Hazare today said he won't participate in the protest as he has nothing to do with party politics.
Addressing the media to announce a nationwide tour from March 31 from Jallianwala Bagh, he said Mr Kejriwal had visited him earlier this week to seek his blessings before his fast and invite him.
"We have already said that we are not with any party and we are not going to fight elections. I am not going on March 23 (fast of Kejriwal)," he said.
Last Monday after visiting Anna Hazare in Ralegan Siddhi, Mr Kejriwal had said the veteran activist had agreed to come to his protest in Sundar Nagri starting this weekend.
Asked whether he will go after March 23, Anna Hazare said if he has time, he will see. "There is nothing wrong in talking to others," he said.
Anna Hazare and former Army Chief V K Singh said the activists of Jantantra Morcha will embark on a nationwide tour from March 31 from Jallianwala Bagh to awaken people about the need for a holistic change in the system.
The first phase of the tour will end on April 17 in western Uttar Pradesh after covering Punjab and Haryana.
Anna Hazare said there will 34 meetings in the three states during this period. VK Singh said after the first phase, there will be a gap of 13 days and then the tour will restart covering Rajasthan, Madhya Pradesh, Chhattisgarh, Jharkhand and other states. In January, Anna Hazare launched another tour in Patna.
Continuing his attack on politicians, he said, "There are protests inside Parliament due to their vested interests."