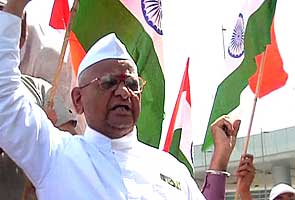 New Delhi:
From Hitler to Obama - Time Magazine has featured people who 'for better or for worse, have done the most to influence the events of the year' on the cover of its special annual issue. And this year the Person of the Year is - the Protestor. While the Arab Spring and Occupy Wall Street Protests dominated world headlines, in India, it was Anna's year.
Anna Hazare's anti-corruption movement that saw Indians rally in support has been named among the top 10 news stories in the world this year by Time magazine, which listed the Arab Spring and killing of Osama bin Laden as the top attention-grabbing headlines.
In its section on
People Who Mattered
, Time Magazine says "It's hard to imagine this diminutive, celibate octogenarian being the dynamo behind an entire popular movement. But in India, Anna Hazare cut a Gandhian pose that transfixed the world's largest democracy and put its sitting government's feet to the fire."
It goes on to say, "Hazare's repeated fasts against corruption attracted tens of thousands of supporters and paralyzed India's Parliament. While critics spy corruption within his own ranks and point to Hazare's ties to the Hindu right wing, his protest channeled the widespread exasperation and anger of India's rising middle class, frustrated with the age-old habits of graft that still dominate much of India's calcified bureaucracy."
The magazine says - Mr Hazare, a former military man who spent much of his life helping govern his tiny village in western India, summed up his 2011 in a recent interview with TIME: "I am still bemused as to how this all came about. A pauper living in a temple, who has no money, no power, no wealth; for him the entire country united and spoke in one voice."
Anna also makes it to
Peter Hapak's Photo Essay
on the Cover Story. Among the 36 pictures is a close-up profile of a smiling and Gandhi-cap wearing Anna Hazare and one in which he is sitting cross-legged. Its caption reads "anti-corruption crusader in India."
"When God wants to bring in change, he needs a vehicle of change, and I became that vehicle," Mr Hazare is quoted as saying.