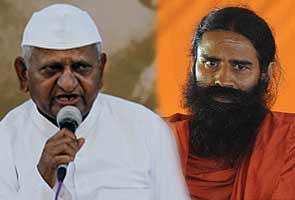 New Delhi:
Social activist Anna Hazare and yoga guru Baba Ramdev will sit on a day-long fast in the national capital today as a mark of their protest against corruption and black money stashed away by Indians abroad.
"The protest will take place in the capital at Jantar Mantar, in all state capitals and in 650 districts across the country," Baba Ramdev said at a press conference in Delhi on Friday.
The yoga guru said he would be joined by Anna Hazare during his day-long hunger strike. Team Anna members Arvind Kejriwal, Manish Sisodia and Kiran Bedi will also participate in the protest.
The yoga guru said their protest in Delhi would start at 6 am. The protest also marks a year of the police crackdown on Baba Ramdev and his supporters in the capital's Ramlila Maidan while they were protesting against black money. The police action had led to the death of a woman.
Thousands of people are expected to join the protest, said Baba Ramdev, who would reach Jantar Mantar in the heart of the capital after paying homage to Mahatma Gandhi at Rajghat at 10 am.
"Our protest is against black money, corruption in government, and for a strong Lokpal. June 3 will mark the beginning of our protest, which will continue in four phases. We will also decide our future course that day," he said.
Baba Ramdev and Anna Hazare will break their fast at 6 pm. This will be then followed by candle marches and protest rallies in several districts across the country.
Today's fast comes in the wake of fresh corruption allegations made by Team Anna against Prime Minister Manmohan Singh and 14 of his cabinet ministers.
Team Anna has alleged that the Prime Minister misused his position during 2006-2009 to allot coal fields at highly under-valued rates to private players. The PM was in charge of the Coal Ministry during this time. Team Anna says he ignored advice from bureaucrats to auction the coal fields; as a result, private companies paid far less than they should have, and the government lost 1.8 lakh crores, according to some estimates. The issue has been studied by the government's auditor and its draft report was leaked in March, after which Comptroller and Auditor General (CAG) Vinod Rai said the leaked portions were misleading.
The Prime Minister's Office issued a detailed rebuttal of these allegations through a press statement earlier this week. It said that coalfields were intended to boost development, industry and infrastructure, not revenue.
The Prime Minister too delivered an uncharacteristically aggressive rebuttal. "To use such words, which have been used without reason or rhyme, I think, the public in India should make up its mind whether this sort of politics will rule the roost in the country," he said. He also promised to resign if "even an iota of truth" was found in the charges of corruption levelled against him.
The charges against the PM were first publicly announced by Team Anna members like Prashant Bhushan and Arvind Kejriwal on Saturday. They want the PM to sanction a Special Investigation Team (SIT) by July 24 to study their charges against him and other ministers. They have warned of an indefinite hunger strike if their request is not accepted.
The CBI, meanwhile, has agreed to conduct a preliminary inquiry into the scam that's been nicknamed Coal-Gate. The CBI's inquiry is based on a complaint filed by BJP leader and Rajya Sabha MP Prakash Javadekar. He had approached the Central Vigilance Commission or CVC which forwarded his complaint to the CBI. The CBI's mission so far does not name anyone; it says the inquiry is against "unknown officials of the coal ministry." The inquiry will also not probe government policy. It will look at how 156 companies were allotted 65 coal blocks, and whether these companies were ineligible and violated the terms of their contracts.