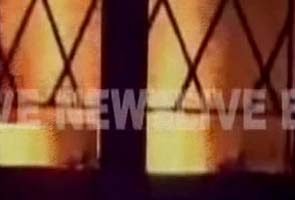 Tinsukia (Assam):
Assam Chief Minister Tarun Gogoi has termed "unfortunate" the incident where a group of disgruntled workers set fire to the bungalow of a tea garden owner at upper Assam's Tinsukia district on Wednesday afternoon. Two people were burnt alive in the incident.
"This is an unfortunate incident. There was some labour trouble in the tea garden area, we are investigating," Mr Gogoi said.
Assam Home Secretary GD Tripathi said some arrests had been made. Security at the tea garden had been strengthened and Inspector General of Police (law and order) SN Singh sent there.
Sources have said that Maoist hand in instigating the labourers cannot be ruled out. The Maoists have been trying to establish base in the area abutting the Assam-Arunachal border, sources said.
Two bodies were recovered from one portion of the bungalow. Both bodies were badly charred making identification difficult.
It is suspected that the owner of MKB tea estate D K Bhattacharya and his wife were inside when flames engulfed the bungalow.
Police said the incident took place after Mr Bhattacharya served eviction notice to two workers of his estate asking them to vacate their quarters. The workers refused to leave and Mr Bhattacharya called the police who arrested them yesterday.
As news of the arrest spread, a group of workers assembled and rampaged through the bungalow of the owner. They then set fire to the building and also torched two cars belonging to Mr Bhattacharya.
As the police and fire brigade personnel tried to douse the flames, the rampaging mob fled the spot.
(With inputs from PTI)