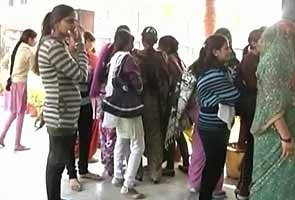 Bhiwani/Bijnor:
Girls at a college in Bhiwani, Haryana, will have to pay Rs 100 in fine if they turn up for classes wearing jeans and t-shirts. In neighbouring Uttar Pradesh, the district magistrate of Bijnore, a woman, ordered that girls who would receive grants from the state government at a function should not wear jeans, or black or even jewellery.
The order invited protests from some Muslim leaders who contended that girls from the community would be wearing
burqas
at the function.
The Uttar Pradesh order was later withdrawn with district magistrate Sarika Mohan pleading that it had been misinterpreted, adding that there was a clerical error in the order that was issued. "We have not decided any dress code. We told them to wear simple and sober dress, there is no such ban. When I had briefed some officials, they had suggested me this (on black
burqa
). Some people have misinterpreted it and make it an issue," she said.
"In our district, Dr Sarika Mohan has issued a diktat that all the girls those are going to Rampur would not wear black clothes. She has banned black Burkha. See, this is a total ban on Muslims, we condemn this and I would like to tell them that they should not offer their alms to Muslims," said Maulana Anwar-ul-Haq, Imam, Jama Masjid, Bijnor.
In Bhiwani, the college authorities justify the fine on jean-clad girls saying it will check incidents like eve-teasing and help maintain discipline and decorum inside the college.
"The reason why we have imposed ban on jeans and t-shirts because these are completely westernised and are short dresses. The small dresses don't cover students and that is the reason why they have to face eve-teasing due to which parents and college administration face problem. Another reason to impose this ban is to maintain the decorum of the college, every child should look same irrespective of what class she belongs, and through this nobody will have superiority and inferiority complex. Considering all these things, all students will come in Indian dress and would not wear jeans and t-shirts as it attracts men," said Dr Alaka Sharma, the principal of the college.
But National Commission of Women (NCW) says the government should take action against college management. "I think, the college administration is less aware about education. I think the government should take actions against college management or such institution, who impose diktat on girls over wearing jeans and t-shirts. Our country is progressing, we have entered into 21st century and it is very disappointing to hear or see such things. One more thing is that these things cannot bring any change. So I believe awareness is needed. I also urge the government to take actions against the principal who fined girls over wearing western clothes," said Mamata Sharma, Chairperson, NCW.
Students too are up in arms. "Ban on wearing jeans and t-shirts doesn't mean that there will be no crimes and boys will not pass lewd comments on you. Men who want to eve-tease can do it if a girl has donned Indian clothes also. I don't think, dressing in Indian attire will bring a change, it all depends on the individual," said Ritu, a college student.