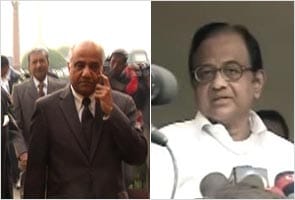 Hyderabad:
The Srikrishna Committee submitted its report on Telangana to Union Home minister P Chidambaram in Delhi on Thursday. The report will now form the basis on which the future of Andhra Pradesh will be formulated.
(Read: Srikrishna Committee hands Telangana report to Chidambaram)
It was an unusual sight to see personnel of the Border Security Force (BSF) guarding the state secretariat in Hyderabad - an indication of how the state administration is on the edge. Fifty companies of paramilitary forces have been sent to Andhra Pradesh.
"We have been preparing ourselves and this preparedness is again dependent on our experience last year," said Aravinda Rao, DGP, Andhra Pradesh.
Home minister P Chidambaram has convened a meeting of eight political parties from Andhra Pradesh on January 6 after which the contents of the report will be made public.
"I propose to convene a meeting of the eight recognized political parties on Thursday, January 6, 2011 at North Block New Delhi. Immediately after the meeting, the report will be made public. The government of India and the eight recognized political parties will make a joint appeal to the people of Andhra Pradesh to maintain peace, harmony and order," said Chidambaram.
(Watch: Chidambaram on Telangana report)
The Telangana Rashtra Samiti, however, has upped the ante, reiterating nothing less than statehood to the region will be acceptable.
TRS MLA K T Rama Rao said, "No other option other than the formation of Telangana with Hyderabad as its capital is acceptable to us."
The Centre's effort really is to take all political parties into confidence to ensure none of them steps out of line and indulges in any activity that pushes Andhra Pradesh into the kind of chaos one saw in December 2009.